While the United Nations was executing the second day of its 70th General Debate, an estimated 300 distinguished guests including African and US leaders and top diplomats came together to celebrate The Africa- America Institute's (AAI) 63rd Anniversary Awards Gala and the inauguration of its Future Leaders Legacy Fund.
This breathtaking and galvanizing event hosted by Zain Asher of CNN International's 'Marketplace Africa' at the exclusive 583 Park Avenue in Manhattan featured a Gala Honorees and VIPs Red Carpet, Cocktail Reception, Dinner and a heartwarming performance by acclaimed East African vocalist and songwriter Somi backed by a Jazz Quartet.
This year's honorees include Namibian President and AAI alumnus Hage Geingob with the AAI Lifetime Achievement and Distinguished Alumnus Award; Strive Masiyiwa, Zimbabwean technology entrepreneur and philanthropist with the AAI 2015 Business Leader Award and IBM with the AAI 2015 Corporate Responsibility Award.
President Geingob, a leader in Namibia's liberation movement credited AAI for his success, which he said helped him become the man he is today because of an undergraduate studies scholarship the institute awarded him in 1964. He recounted during his acceptance speech how his "thirst for education" was the reason why he walked for five days from Namibia to Zambia to travel to the United States to study at Fordham University. "Don't take your education for granted," cautioned President Geingob.
According to AAI, the Future Leaders Legacy Fund is an exciting new initiative which provides Africa's brightest yet under-resourced students with scholarships to study in high-performing African Universities and technical colleges to earn bachelor degrees and vocational and technical training certifications. Proceeds from the gala will support the scholarship fund, AAI said in a press release.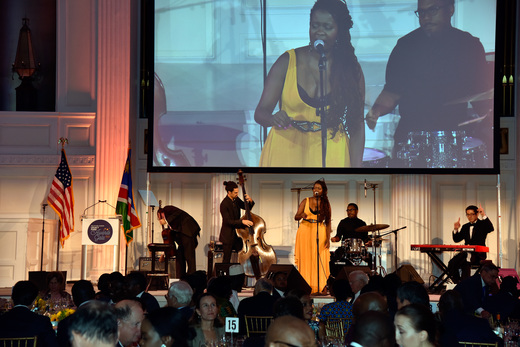 The Legacy Fund's inaugural partner institutions are Asheshi University, Accra, Ghana; United States International University (USIU –Africa), Nairobi, Kenya and The University of South Africa (UNISA), Pretoria, South Africa.
"Today, the world average is that 1 in 4 people will attend university. In Africa, only 1 in 20 will attend university," said Amini Kajunju, President and CEO of the Africa-America Institute.
"We must change that," Kajunju added, citing a recent report stating that education is a "powerful predictor" of the wealth of African countries for long term development.