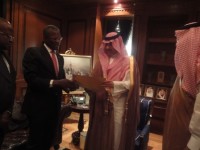 Sierra Leone's Ambassador Extraordinary and Plenipotentiary to the Kingdom of Saudi Arabia, His Excellency Alhaji Mohamed Sillah Kargbo has on Monday, 7th April, 2014 presented copies of letters of credence to Saudi Arabia's Deputy Foreign Minister.
Presenting the letters to His Royal Highness, Prince Abdullah Bin Abdulaziz Al Saud, His Excellency Alhaji M.S Kargbo conveyed fraternal greetings from Sierra Leone's Minister of Foreign Affairs and International Cooperation, Honourable Dr. Samura W.M Kamara to Saudi Arabia's Foreign Minister, His Royal Highness, Prince Saud Al Faisal, the Deputy Foreign Minister and the entire Staff of the Saudi Foreign Ministry.
Ambassador Kargbo affirmed his keenness to develop strong relations between Sierra Leone and the Kingdom of Saudi Arabia in various fields of development to serve the mutual interest of the Saudis and Sierra Leoneans. President Koroma's envoy also said that there is strong need for both countries to continue working towards fostering the already existing ties which have been on for the last thirty five years.
In accepting the credentials on behalf of the Foreign Minister, the Deputy Minister welcomed Ambassador Kargbo to the Kingdom of Saudi Arabia and asked him to give his regards to Dr. Samura Kamara and his team at the Foreign Office in Freetown.
The Prince also affirmed to the newly appointed Ambassador that he would receive all support from the Saudi government and people to enable him to carry out his duties. Earlier, the two discussed various issues to further promote the already existing bilateral and multilateral cooperation between the two sister countries.
Present at the short, but colourful ceremony were, Deputy Minister for Protocol Affairs (Chief of Protocol), Mr. Azzam Al Qain, Director General, General Administration for African Countries, Mr. Khalid Mufti, among others.
The Sierra Leone Ambassador was accompanied by the Head of Chancery/Minister Counsellor, Mr. Umaru S. Dura, First Secretary, Mr. Salamu Koroma, Media Attaché, M.B. Jalloh and Third Secretary, Mr. Sulaiman Tunkara.