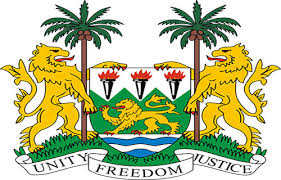 GOVERNMENT OF SIERRA LEONE
Office of the President
57th Independence Anniversary Broadcast to the Nation by His Excellency the President Julius Maada Bio on Friday, 27th April 2018
Fellow Sierra Leoneans
Today, we are celebrating the 57th anniversary of our independence. This has been a momentous year that has taken us through the tragedy of the floods and mudslide in August 2017. But at the same time, for the hopes and aspirations of millions of Sierra Leoneans who voted for change in a New Direction to develop and transform our beloved Nation.
Today, we have a new opportunity as a nation to collectively and individually work together to take this country forward, to develop and transform Sierra Leone that we can all be proud of.
During my Swearing-In on 4th April 2018 as President of the Republic, I said that my election and my new administration is the dawn of a new era to change and transform Sierra Leone. As a nation we must resolve to use this opportunity to change and transform our beloved Sierra Leone.
We have to resolve as a nation to lay the strong and credible foundation for our children and our grandchildren. This is the only way to create the conditions for a united, peaceful, confident, enterprising, dynamic and progressive country.
As we celebrate 57 years of our independence we have to acknowledge the fact that as a country we are at a crossroad and that we are faced with the stark choice between the corrupt and indisciplined business as usual status quo or a change in the New Direction where every Sierra Leonean is given the ladder of opportunity to climb and achieve their greatest potential.
We have to ask ourselves that after 57 Years of independence what do we have to show for? As a nation, we have made great strides in laying some of the critical foundations for socio-economic and political development.
Today, we can confidently say that we have now laid the foundation to consolidate our nascent democracy after holding five successive democratic elections that have seen the transfer of power from one civilian administration to another.
After 57 years of political independence, we are still faced with some of the most critical problems and challenges of development and social progress. At 57 we:
Are not able to pay for our basic and essential services as a nation without depending on external development assistance.
We have not provided effective political and economical management of the state and our natural resources for the benefit of all Sierra Leoneans.
We are still classified as one of the poorest countries and the most corrupt country in the world.
At 57, Sierra Leone has changed from the international recognition as the 'Athens of West Africa' to a country where 3 in every 5 Sierra Leonean cannot read and write.
At 57, we are today a divided nation along ethnic, regional and sectional lines with very negative impact on the professionalism and functioning of our state governing institutions
These depressing social and development challenges have to change. I have been given the mandate to change and transform this country and I will provide the disciplined leadership needed to take this country forward. I have therefore directed that:
Given the current economic and financial crisis that we have inherited, there should be no budgetary allocation from the Ministry of Finance to fund independence celebration activities across the country.
My government will only fund future independence celebrations across the country when, as a nation, we are able to pay for our critical and basic services without relying on any external development aid.
My Government will only approve future funding for independence celebration activities when our domestic revenue collection make up 20% of our Gross Domestic Product.
As a government, we are determined to lay the solid foundation for change and transformation in Sierra Leone. Already, the signs and achievements of our New Direction revolution is visible everywhere. The Executive Order No. 1 issued on 9th April 2018 on 'Domestic Revenue Mobilisation' and Executive Order No. 2 issued on 25th April 2018 on 'Fiscal Control Measures' have made it possible for my new administration to pay Salaries for the first time without using Bank Overdraft facility.
These domestic revenue mobilisation efforts by my new administration clearly shows that change is possible in this country. The people of this country have voted for change. We all want change but we must also be prepared to work for change and accept the challenges that change will bring. This is the price that we have to pay, as a nation, to change and transform our beloved Sierra Leone.
Expectations are high and rightly so. The people want to see immediate and visible change in their lives. We can only achieve change and transformation in Sierra Leone today if we work together to build national cohesion and end the culture of indiscipline, lawlessness and corruption.
We want to attract and tap into the best brains and expertise that this country has to offer to drive our New Direction inclusive development, inclusive economic growth, inclusive politics and inclusive governance programmes. This is the only way to develop and transform Sierra Leone and together we can and we will make this possible.
My government recognises and appreciates the important contribution made by our development partners and I do call on them to join us and support our New Direction policies and programmes to change and transform Sierra Leone into a country that will no longer be dependent on aid.
Congratulations on our 57th Independence Anniversary.
I wish you all a happy and memorable 57th Anniversary Day.
And God Bless the people and the Republic of Sierra Leone.