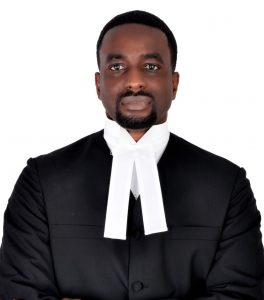 The Parliament of the Republic of Sierra Leone has overwhelmingly approved the appointment of Mr Melron Nicol-Wilson as new Ombudsman, on Tuesday April 11, 2017. This follows him being named by H.E President Dr. Ernest Bai Koroma as the replacement to Justice Edmond Cowan – a long-standing legal icon, who now chairs the Sierra Leone Constitutional Review Committee.
A man whose action speaks louder than words, Mr Nicol-Wilson has been appointed as new Ombudsman for Sierra Leone, a position reserved for high-profile people, who are well-respected and with unblemished character. Mr Nicol-Wilson has the typical pedigree of an Ombudsman, best known both in Sierra Leone and internationally as a champion for justice and human rights.  
The Parliament's decision to approve Mr Nicol-Wilson was anticipated, as the high-profile human rights lawyer emerged unscathed from an exchange of views with Members of Parliament. 
Hon. Ajibola Manley Spain, Chairman of Parliament Legislative Committee, said: "despite his youthfulness, (Mr Nicol-Wilson) has the experience and qualification to act as Ombudsman". 
During the parliamentary session, Mr Nicol-Wilson addressed MPs and the media briefly, declaring himself, "elated, honoured and humbled" and promising to be a "champion for justice and human rights" and paying tribute to the principles of unity, freedom, justice, impartiality, independence, and patriotism. Mr Nicol-Wilson pledged in his interview session before the Parliamentary Committee to be impartial and apolitical in his approach to the office of the Ombudsman.
"I am grateful to President Koroma for this appointment. It is an enormous privilege to take up the position of Ombudsman for Sierra Leone. I appreciate that this is not a political position and so I have an independent role to perform. I hope to work with people from all walks of life and on both sides of the aisle, in defence of human rights, justice and the Rule of Law," Mr Nicol-Wilson said.
The appointment of Mr Nicol-Wilson marks a tremendous victory for justice and human rights in Sierra Leone. Mr Nicol-Wilson is a trailblazer, an achiever and an individual that has contributed significantly to access to justice and championing human rights in Sierra Leone. Mr Nicol-Wilson is expected to bring in reforms to the office of the Ombudsman and further advance the work of the office, creating a more effective and efficient Ombudsman's Office that will put a check to mal-administration and injustice in the public service, as well as check the excesses of public officials, with the aim of creating a culture of justice and human rights within the public service in Sierra Leone.
The single best strategic decision President Koroma made is to appoint Mr Nicol-Wilson. The president has appointed a widely respected citizen and has given skeptics a reason to support him. Mr Nicol-Wilson's appointment has been hailed as one of the most transparent and impartial in history. Mr  Nicol-Wilson's passion to help poor people access justice, exceptional intellect and unparalleled integrity, and record of independence makes him the perfect choice to serve the nation's highest independent office.
"If anything, Mr Nicol-Wilson's appointment is amongst the best ever announced by President Koroma since assuming office ten years running",  said Mr Theophilus Sahr Gbenda, a prominent Sierra Leonean journalist and Human rights campaigner, who served as chairperson for the Association of Journalists on Mining and Extractives (AJME). 
Emmanuel Saffa Abdulai, Executive Director Society for Democratic Initiatives, who has known Mr Nicol-Wilson for over fifteen years, said:  "I don't often agree with President Koroma on his appointment and have dime view of his human rights and governance credentials, but I am full throttle on the appointment of Mr Nicol-Wilson. Thank you Mr. President for bring the people's voice to serve in his constituency. He is uniquely qualified to be Ombudsman…"
Mr Nicol-Wilson's appointment is a new dawn for the broader justice and human rights movements in Sierra Leone, particularly for poor people deprived of justice for alleged violations of their rights or are often denied the right to petition government for redress of their grievances.
Mr Bai Bai Sesay, one of the editors of the Independent Observer, who was arrested and charged with criminal defamation for publishing an article critical of President Koroma, said of Mr Nicol-Wilson: "He is a lawyer of unparalleled talent, with experience, with a passion to help poor people and will do an exemplary job, by promoting and protecting human rights. We are delighted by Mr Nicol-Wilson's appointment"
Mr Messeh Leone, the Executive Director of Rightsway International, based in the United Kingdom, said: "Indeed we the people have found a voice. Even in the face of grave human rights violations and injustices, Mr Nicol-Wilson has shown an unwavering commitment to promote and protect the rights of citizens. Mr Nicol-Wilson is going to make an incredible contribution to the cause of justice and human rights. He's going to make the people of Sierra Leone proud."
The accountability activist, Mr Abdul Fatoma, Executive Director of Campaign for Human Rights and Development International (CHRDI), who was recently detained after criticising Parliamentarians for lack of accountability, said: *Our organisation CHRDI, welcomes Mr Nicol-Wilson's appointment and we want to believe that his appointment is to accomplish the mandate of this very important office and he will be totally committed, devoting all his skills and determination to his work. We urge all Sierra Leoneans to lend him their support so that together, we can build that bright future worthy of our country''.*
"This is a key job for Sierra Leone and Mr Nicol-Wilson is exactly the right person to take it on," declared David Tam Baryoh, a high-profile journalist, whose reports have often needled government officials, resulting in his detention, "Mr Nicol-Wilson is one of our most respected and experienced legal minds and will have a central role in supporting citizens seek justice; not the least, as we work to hold the government to account for their actions and inactions."
Mr Nicol-Wilson has been one of the leading human rights advocates in the country, with a long-standing public law and human rights practice, acting for vulnerable and marginalised individuals. His appointment is going to make a huge difference.
Mr Nicol-Wilson has become a national symbol for justice and human rights. He is a patriot, a seasoned lawyer, a team- player and an experienced professional, who will be able to offer leadership to the office of the Ombudsman.
Mr Nicol-Wilson, the youngest to be appointed Ombudsman is an experienced champion for justice and human rights with an outstanding academic record, and an illustrious career. 
Mr Nicol-Wilson holds two masters degrees in law including Masters of Law (LLM) specialising in human rights & constitutionalism, from the University of Pretoria in South Africa and Masters of Law (LLM) specialising in international criminal justice, from the University of Nottingham, in the United Kingdom. Mr Nicol-Wilson also holds a Bachelor of Law with honours, from the Fourah Bay College, University of Sierra Leone and was called to the Bar in December 1998. 
Mr Nicol-Wilson has been dubbed "the Peoples' Lawyer" for his free legal services and courtroom ferocity. He is a distinguished Sierra Leonean lawyer in the Commonwealth who co-founded and led the Lawyers Centre for Legal Assistant (LAWCLA), the first non-profit and pro-bono legal centre. Mr Nicol-Wilson resigned his job as a Lawyer for the United Nations High Commissioner for Refugees (UNHCR), and went on to establish LAWCLA.
Ms Kakuna Kerina, Director, The International Advisory Group, Inc who first met Mr. Nicol-Wilson in New York in 1999, when she was Director of The Africa division of the International League for Human Rights, had this to say about Mr. Nicol-Wilson: "I am proud to note that when serving as the former Executive Director of the Open Society Initiative for West Africa (OSIWA), a Soros Foundation, we were proud to support the groundbreaking work of LAWCLA under Mr. Nicol-Wilson's leadership. I highly applaud the selection of Mr. Nicol-Wilson because he is uniquely qualified for the role of Ombudsman. Mr. Nicol-Wilson has served his country and his fellow citizens to date without any expectation of reward, and he has done so with the integrity, objectivity, and professionalism that the Ombudsman position demands.
Professor Frans Viljoennorman Taku, Director​​​​​​​Assistant Director Centre for Human Rights​​​​​ Centre for Human Rights, Faculty of Law, University of Pretoria, South Africa, said in a letter: "In (appointing) Mr Nicol-Wilson Ombudsman of the Republic of Sierra Leone, President Ernest Koroma has recognised an outstanding lawyer and the quintessential public servant. He has placed the well-being of the people of Sierra Leone in the hands of one of the most capable, competent and committed human beings ever to wear a wig and a gown – in the service of a nation and for the upliftment of its people."
 "Since graduating from the Centre in 1998 with his LLM degree, Mr Melron Nicol-Wilson has been an outstanding ambassador of the Centre's values of excellence and ubuntu, through his work as a human rights defender in Sierra Leone and abroad. He is an alumnus of a unique and distinguished pedigree. In the course of his LLM studies here, he demonstrated a synthesis of intellectual aptitude, the capacity for rigorous study and an indelible personal commitment to improving the lives of others with the instrument of law. 
"Establishing the first legal aid organisation in Sierra Leone showed the world that his mission would be to serve his country and to reach the majority of its people with the message of social justice. He did this with unrelenting courage, singular initiative and unwavering dedication. He did so with no regard for popularity, personal reward or career prospects"
On 25 May 2007 – Africa Day – Mr Nicol-Wilson became the first recipient of the Vera Chirwa Human Rights Prize, awarded to Centre for Human Rights alumni for exceptional achievement. The prize recognised his dynamism and courageous pioneering spirit in establishing the Lawyers' Centre for Legal Assistance (LAWCLA) in Sierra Leone, his unwavering commitment to improving the lives of people in Africa and his outstanding professional achievements.
Mr Nicol-Wilson was the youngest Defence Counsel and Case Manager at the United Nations, backed Special Court for Sierra Leone.  He is a former Lecturer in International Humanitarian Law and International Human Rights Law at the Peace and Conflict studies Department, Fourah Bay College, University of Sierra Leone. 
Mr Nicol-Wilson was the first Legal Adviser of the Sierra Leone Anti-Corruption Commission and the first coordinator of the Pilot National Legal Aid Scheme that gave birth to the establishment of the Legal Aid Board.
Nicol-Wilson is the managing partner of the prestigious Malaika Chambers, and has been a human rights lawyer, teaching- fellow at the Columbia law school in New York, and former human rights and international Humanitarian law lecturer at the Fourah Bay College, University of Sierra Leone.
Described as a "brilliant human right lawyer", Mr Nicol-Wilson has worked on a number of contentious human rights cases. He led the defence of David Tam-bayor, who was imprisoned after criticising the government. Mr Nicol-Wilson has championed many good causes in Sierra Leone in the quest for justice and human rights for the poor, the disadvantaged, children, women and youths.  
Mr Nicol-Wilson has been credited for his inspirational work in championing the following justice and human rights campaigns in the country, including campaign for Prosecutorial powers to the Anti-Corruption Commission; campaign against discriminatory legal provisions in sierra Leone; campaign to decriminalize freedom of expression  as provided for in the Public Order Act of 1965; campaign to establish a National Legal Aid Board; campaign to abolish the Death Penalty;  campaign for Juvenile Justice; campaign to create an effective office of the Ombudsman; and the campaign for Human Rights Teaching, at University Level, through the introduction of Human Rights Law as a course at Fourah Bay College, where he became the first Human Rights Law Lecturer in the history of that Institution.
Because of his outstanding legal abilities and service to justice and human rights, Mr Nicol-Wilson was awarded the 2007 African human rights lawyer of the year; the 2003 AWOL lawyer of the year; the 2007 Madrugar lawyer of the year; the Children's Forum Network child-friendly lawyer of the year, among several other awards.
Mr Nicol-Wilson will always be regarded for his service to humanity and life long struggle for justice and the promotion and protection of human rights in Sierra Leone through legal representation, legal research, teaching, advocacy and lobbying.
A number of civil society and human rights groups have welcomed this appointment and congratulated Mr Nicol-Wilson on his confirmation. People from across the world reiterate the importance of the appointment of Mr Nicol-Wilson as new Ombudsman for Sierra Leone, and call on all everyone to lend their full support to his important endeavour.
The Ombudsman is the citizens' chief legal advocate and is empowered to investigate any complaint relating to any decision or recommendation made or any act done or omitted by any officer of the government or a statutory body, in any case in which a member of the public claims to be aggrieved, or appears to the Ombudsman to have experienced injustice as a result of the exercise of the administrative function of that officer or body.