"We will give back to the WEST 'TIT FOR TAT' as we are no more fools"- Says:- PRES. Jammeh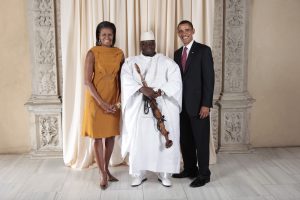 Speaking in Basse, in the Upper River Region while on his Nationwide Agricultural tour over the weekend, His Excellency Alhaji Dr Yahya Jammeh, had this to say "The WEST has now decided they will sink any boat found in their territorial waters that maybe carrying migrants bound for European countries. That will be an extra judiciary assassination"
According to President Yahya Jammeh, he and his government are more than ever now prepared to fight injustice in the country up to the last minute. He said the WEST must take note that his position on injustice has now gotten to the point of 'tit for tat'
Addressing his people further, President Yahya Jammeh said that his Government has now put up an uncompromising position on the life and welfare of The Gambian people. "If any Gambian is killed by them, we will physically retaliate. We are not fools anymore and we cannot be colonized twice"
However, President Yahya Jammeh warned Gambian parents and their children against the ills and economic loss that is associated with such ventures. He says he is not opposed to Gambians travelling to Europe and beyond. He cautioned them against illegal travelling and that they must first have skills.
"We can never be exploited twice. I will defend the Independence of The Gambia at all levels. Almighty Allah is the only supreme authority and I will bow down to no human being but Allah"
Commenting on what he described as 'hypocritical and selfish' actions of the WEST, President Jammeh Condemned mass killings across the world, saying actions can only be taken if such killings affected American citizens and the WEST.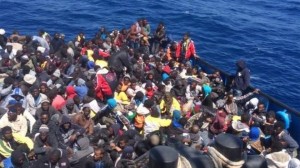 In a closely related development, the European Union (EU) aims to bring 20,000 refugees to Europe in the next two years, as part of its plan, at a cost of £36m. The Commission is urging EU states to share the burden of processing asylum claims. Italy and Greece, facing a migrant surge are struggling to cope. Under the EU law the UK, Ireland and Denmark are exempt from the quota plan.
There is pressure for tougher EU action to send economic migrants back home. On Military action, the EU is considering naval action in the Mediterranean to intercept boats used to traffic migrants from North Africa with Libya being a particular hot spot.
A decision on this is said to be reached by Monday (May 18th). However, any such Military strike action against human traffickers would require UN Security Council authorization. So far more than 1,800 migrants have died at sea this year, trying to reach Europe.
The UK says the EU should focus more on fighting the traffickers who exploit migrants, put their lives at risk and fuel the influx into southern Europe. According to the Commission, if the UK decides to opt into the refugee resettlement plan, it would accept 2,309 that is11.5% of the 20,000 total.
Further the Commission calculates that Germany would take the largest number 18.4%, followed by France 14%, Italy 11.8% and Spain 9%.
This new mechanism according to the Commission is called a 'distribution key' and it is to be launched on a temporary basis by the end of this month, with a permanent plan to follow by the end of the year.
France, Germany, Italy and some other countries back the Commission's quota proposal.