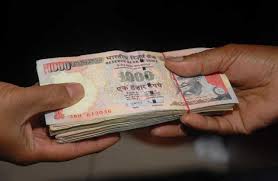 There is always the tendency for constitutions to become the ultimate tyranny. Sometimes, they can be used as social power mobilised with no conscience. If used wrongly, they can have unstable balance points and no limitations. The greatest threat to our constitution is our own ignorance of it. Some will consider such any political post mortem on our Ebola-strangulated society as too harsh, too hasty and too insensitive in these times of need. The majority of the sympathisers of the current regime will have you believe that the Ebola epidemic was an unwelcome distraction for the "Agenda for Prosperity" brigade. It will be very preposterous and to some extent, politically insane not to acknowledge that the epidemic did not only cause untold suffering, but also distracted the government and every sector of our lives from our pursuits of happiness. I give you that. With the exception of Western Union, Money Gram, and some other backdoor money transfer institutions, every sinew or fabric of our society was affected. We cannot begin to quantify or prepare a balance sheet of its effects at the moment.
When you consider how un- prepared and how under developed how health infrastructure was pre- Ebola, you would be excused if you could sympathise with how our government struggled and grappled with the reality on the ground. Our country like many others on the continent, was never in a million years prepared for such an unprecedented rate of seeing lives being haemorrhaged. But if anything, the Ebola crisis did not only expose the level of underdevelopment of our health sector, but it also laid bare for all to see, what decades of misappropriations, jaundiced priorities and disjointed leadership can do to a nation and its people. To all intents and purposes, the Ebola has unfortunately distracted everyone, including the government from the desired pathways to development and the highway to "Agenda for Prosperity".
But other schools of thought will beg to differ, and believe that the Ebola crisis should not be used as a smokescreen or cardboard to paper the cracks that were already becoming gorges pre-Ebola. There are those who believe that the country was already on the roadmap of "Agenda from Prosperity" long before you could spell the word "EBOLA". Some cynics will see, wrongfully perhaps, that the Ebola was a political manna that came at a time when the government was bereft of ideas, struggling and undermined by hair brained policies. But in spite of all the inherent baggage that the Ebola came with, no one should be allowed to get away with any attempt to use it as a political aphrodisiac to massage their political egos.
This brings to mind a recent article by Mohamed (One Drop), effortlessly trying to convince us the masses (or is it plebeians?), on why Ernest should be given extra time in office. At face value, he believes that provision is made for such contingencies in the 1991 constitution. It is interesting to note how we can take the Constitution loosely and the Bible literally." History has taught us that whenever there is a need or request for "constitutional reform or review", there is always the inherent danger of the abridgment of the freedom of the people by gradual and silent encroachments of those in power than by violent and sudden usurpations.
Bearing in mind that the constitution is the only safeguard of our liberties, the strength of the Constitution therefore lies entirely in the determination of each citizen to defend it; and only if every single citizen feels duty bound to do his share in this defence that the constitutional rights are secure." While some will not question the need for a constitutional review, other will roll their eyes about the timing of the exercise. To all its intents and purposes, many would wonder why this was not undertaken during the first term in office. Well some of us are not that politically cynical and will let sleeping dogs lie.
It is not surprising that after floating the idea of a THIRD TERM for President Koroma with less desirable results, a new pathway and "clamour" for EXTRA TIME is emerging from the faithful. While many cynics would see this as part of the grand scheme of machinations that gave birth to the constitutional review in the first place, others might view it as a middle way or "compromise." But do we need a compromise? Are we saying that our constitution is open to compromise, batter, and political horse trading on the stock market; at the behest of personal aggrandisement? And is wearing the Ebola crisis, as a political protective equipment to buy time for the government, the best excuse that can be served for our political palates? Many will find this not only abhorrent but rancid to taste. To make political capital of such a tragedy of biblical proportions, would be seen by many as an act of a desperate government, floating the suffering of its people on an already morally bankrupt stock exchange market.
There is no doubt that the Ebola crisis has generated its admirers and critics of the government in various measures and quarters. It is natural that while some will applaud President Koroma and his government for the leadership shown in such trying and untested times, others will see it as an exposé of his inability to lead his people and country in times of need. With such variance in opinions across the social and political landscapes, there are a lot of people who would subscribe to the idea that conducting the elections in 2017/18 as scheduled will be appropriate. However, those who are advocating for "injury time" may want to take a look at the other side of the coin.
President Koroma was preparing to attend a meeting of world leaders when the Ebola outbreak reared its ugly head on our shores. Like a real statesman and leader of his people, he cancelled his ticket and settled for a stay at home instead; "with my people". Very commendable. Without sounding flattering, he did what was expected of any leader that was worth his salt; kudos. From the onset, President Koroma has been there with his people through thick and thin. You would therefore expect that he should have a very clean bill of approval, for doing a Moses in leading his people out of the clutches of the Ebola epidemic. If that is the case, then the president and his flatterers, sympathisers or supporters alike, should have no fear for a job well done. The president and the APC party should have no problems or fear in fighting the next election on among others, the Ebola ticket.
But true to form, our country has been embroiled in the unenviable and seemingly incurable disease of corruption. It looks as if while well-meaning citizens were busy donating, sacrificing, caring for, and burying our love ones, others were busy lining their pockets with the conscience of chainsaws. Indications are that, "there were inadequate controls over the disbursement of funds. For instance, payments which exceeded Le14 billion were made from the Emergency Health Response and Miscellaneous Accounts without any supporting documents to substantiate the utilisation of such funds. Further payments which exceeded Le11billion were made from the same accounts without adequate supporting documents such as receipts, invoices, delivery notes, etc. Further payments which exceeded Le11billion were made from the same accounts without adequate supporting documents such as receipts, invoices, delivery notes, etc." (thisissierraleone.com). the list goes on and on.
There is an apparent light at the end of the tunnel and one would expect sighs of relief from the strangle hold of the Ebola epidemic. But as if that was not enough, we are faced with the perennial issue of corruption on a massive and unashamed proportion. The government, the people and all our partners should be requiring some resuscitation, after such a long and arduous marathon battle with the epidemic. Instead, the country is now faced with a problem that is in reality bigger, deadlier and more unforgiving than the Ebola virus. This might sound ill-timed but the government of Sierra Leone, the APC Party and the President of Sierra Leone, Ernest Bai Koroma has an unenviable but golden opportunity to show the people and all those who donated in good faith, that HE MEANS BUSINESS. If the government can undertake a CRUSADE FOR ACCOUNTABILITY, and bring to book all those who are responsible for such crimes against humanity, then there will be no need for an injury time. The people of Sierra Leone will ordain him as life president; honest. Corruption in our country is deadlier than Ebola.
The government now has the opportunity to show that it can bite and not just bark. There are some people who are not wholly comfortable with how Ernest and his government handled the Ebola crisis. If that is the opinion of the majority, there can be no better opportunity to restore that faith and approval, than with the recent corruption scandal. It is time to see that this government means business and that it is made of sterner stuff. Can you imagine how many people lost their lives because of these corrupt practices? You can bet your last penny that many would have survived; if only, if only, if only……..In my book, IT IS MANSLAUGHTER and all those charged and found guilty must be done so for CORPORATE MANSAUGHTER. Do that and you have my vote for PRESIDENT FOR LIFE. Corruption kills more than Ebola.
Don't forget to turn the lights out before you leave the room.