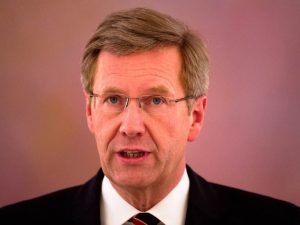 German President Christian Wulff resigned in disgrace today, finally bowing to pressure and a lack of trust on the back of months of revelations about blurred lines between personal, business and political advantage.
His decision leaves fellow conservative Chancellor Angela Merkel with the task of trying to identify a replacement who will be popular across the political spectrum – as the next president will be Germany's third within two years.
Facing the cameras in Berlin on Friday morning, Wulff admitted he no longer had the full trust of the broad majority of the people and could thus no longer carry out the duties of president.
"The developments of the past days and weeks have shown that this trust and thus my ability to function have been lastingly damaged," he said, flanked by his wife Bettina in a hall of the presidential Bellevue Palace.
Wulff has been under increasing pressure to resign since last December when details of a soft loan of €500,000 he got from the wife of a businessman but did not declare, became public.
He did not mention the demand made late on Thursday from the public prosecutor's office in Hannover, Lower Saxony, where he used to be state premier, that his immunity from investigation be lifted.

But he did say he was convinced the investigation would completely exonerate him. "I made mistakes but I was always honest," he said. Merkel soon afterwards said it was a strength of the country that the law applied to all equally, no matter what their position.

Referring to his much-lauded statement that Islam had a place within German society, Wulff clearly attempted to frame his presidency as one devoted to the aim of increasing integration, devoting the first part of his resignation speech to that topic.

Germany would be strongest domestically and on a European level if integration is successful, he said, but added that this would need a president who could concentrate on the job. He said he was resigning because only a president who enjoyed the "full trust of the broad majority of the people", could take on the enormous challenges on the international stage was well as those at home.
In her brief statement, Merkel also praised his work on integration. "He exerted his full energy for a modern and open Germany. He gave us an important impulse to strengthening this country in its diversity and his name will always be connected with that," she said.
She came under increasing criticism for backing Wulff throughout the unfolding scandal, as details of holidays paid for by businessmen followed accounts of threats made to newspaper executives about to report on his sweetheart loan.

Merkel will now consult with party colleagues in the Christian Democratic Union, their Bavarian CSU allies, as well as her coalition partner the Free Democratic Party before talking with opposition parties the Social Democratic Party and the Greens to find a candidate acceptable to all.

Wulff himself was a controversial candidate who Merkel pushed into office in the face of opposition from within her own party's ranks. He took over after his predecessor Horst Köhler resigned in May 2010 after making comments which appeared to justify Germany taking military action to defend its economic interests.
Then it was said that Köhler resigned too quickly as a result of a thin skin – this time the calls for the president's resignation have been varied and loud for weeks.
The German constitution says that should a president resign or be prevented from carrying out his duties, his office should be filled by the president of the upper house of parliament, the Bundesrat – currently Christian Social Union leader Horst Seehofer.

The enormous Federal Convention which elects the president, must meet at the latest 30 days after a resignation to start voting on candidates. The assembly has 1,244 delegates including all the members of the lower house of parliament, the Bundestag, and equal numbers elected by the parliaments of the federal states.