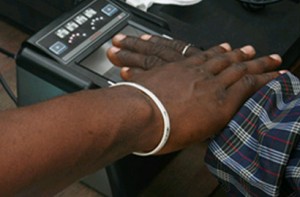 Latest reports from Belgium indicate that the finger print matching process ended successfully yesterday Thursday but with varying results. Of the 2,663,746 registrations sent by the National Electoral Commission (NEC) it was discovered that some 31,004 were found to be without fingerprints. As a result only 2,632,742 registrations were matched on fingerprints. Furthermore out of the 2,632,742 some 9,798 were found to be duplicates.
At the PPRC stakeholders Conference the NEC Chairperson Christiana Thorpe explained that she will set up a committee to look into the issue of duplicates or so called double registration. This she said is because not all cases may be criminal. She said in some cases when the BVR machines do not register someone's finger print or capture someone's picture the computer operator at the center may ask them to wait and deal with another person and then call them again. In such cases she said some computer operators start a new registration for the person without knowing whether the first one entered in the system is still there. This she said might result in two entries. In such cases she said the person involved might not have wanted to register twice but the effect of the machine has caused him or her to be captured twice. This type of double registration she said might be called machine error but in cases where someone is found with different clothes and appearing in different registration centres then that is a case for the "boy blues" as she referred to the police.
Facial matching is expected to start today Friday.