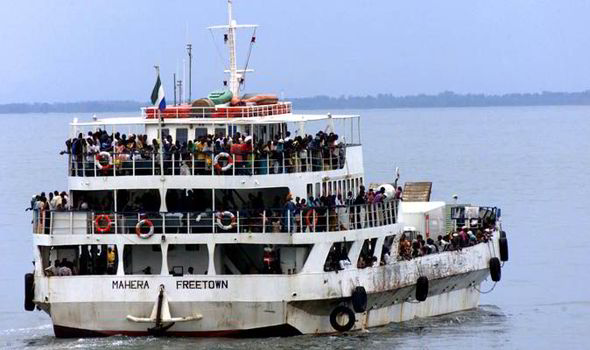 Panic gripped hundreds of passengers that were onboard MV Mahera yesterday when the engine of the old ferry suddenly developed some mechanical fault and grounded to a halt a few minutes after it had taken off from the Kissy Ferry Terminal.
MV Mahera took off from the Kissy Ferry Terminal at about 1:45p.m. or thereabout and all of a sudden, the engine started emitting huge black smoke thus making it difficult for passengers to breathe.
A few minutes later, the sound of the engine subsided and passengers were confused as to what was happening except the sailors and engineers that were sweating inside the cabin without alerting the passengers.
When the engine went off, passengers saw the ferry drifting towards where it had come from before it started drifting towards the Marine Department at the Sierra Leone Ports Authority (SLPA) where one of the three unused ferries is undergoing maintenance.
The panic-stricken passengers onboard started praying for divine intervention when the ferry finally lost its course until almost an hour later when it was announced that the mechanical problem has been amended.
The engine eventually started working and the ferry finally took its right course towards the Targrin Terminal albeit at a snail pace much to the relief of passengers.
It however took nearly two hours thirty minutes for MV Mahera to finally land at the Targrin Terminal under heavy downpour.
This medium however gathered that many passengers that crossed with the ferry made their return trip to Freetown via Port Loko out of fear that MV Mahera might develop the same problem again