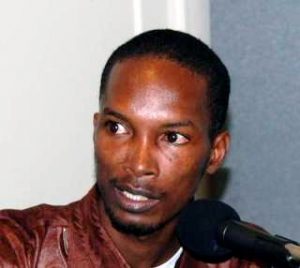 Chernoh Alpha M. Bah, the Sierra Leonean award-winning journalist, author, chair of the African Socialist Movement of Sierra Leone and human rights advocate arrived in New York City late Wednesday to begin a two-month book tour in the United States of America.
Mr. Bah said the tour promoting his latest title "The Ebola Outbreak in West Africa: Corporate Gangsters, Multinationals & Rogue Politricksters" kicks-off on Thursday, April 7 with a speaking engagement at Boston's Wellesley College Africana Studies Department in Massachusetts.
"I am hoping to build world opinion in favor of an independent investigation into the real causes of the outbreak and how we lost thousands of families and friends," Mr. Bah said in a statement via social media responding to a request seeking comment.
He said his book "challenges the western narrative that the outbreak began in remote village in Meliandou, Guinea through zoonotic causes."
Though international news reports pinpointed a two year old Guinean boy who died on December 6, 2013 as Ebola's Patient Zero, scientists and researchers have acknowledged that they don't exactly know how the child caught the virus.
But Mr. Bah said he strongly believes the origin of the outbreak can be "located in Sierra Leone both in terms of place and time."
He argues the western media coverage was motivated by one objective, "to cover-up the actual chain of events that caused the outbreak and to exonerate the role of international actors and the local elites from responsibility for the disaster.
Some political observers, Pan African leaders and Professor Francis Boyle, a noted scholar of bio-warfare and international law at the University of Illinois have theorized that the Ebola virus is a bio-weapon manufactured in laboratories in Africa by western governments.
He insinuated the book's subtitle "Corporate Gangsters, Multinationals & Rogue Politricksters" captures the central focus of the book identifying the role of international forces in alliance with local elites in creating the conditions for the outbreak and using the disaster and wreckage to fulfill material and political objectives, nationally and internationally.
The book Ebola Outbreak in West Africa illustrates how the unchallenged narrative of western media distorted the facts of the Ebola crises.  This distortion according to the author is "a continuation of a colonial legacy of multinational corporate exploitation, political corruption and western dehumanization of the African" 
 A damning report released by Mrs. Lara Taylor, Auditor General of Sierra Leone on the Audit of the Management of Ebola Funds implicated the Sierra Leone government and officials in the Ministry of Health of embezzling 30 percent of the approximately US $19 million the Sierra Leone government spent between May – October 2014 to tackle the Ebola epidemic, London based Africa Research Institute reported.
On Sunday, April 10, Mr. Bah will discuss The Impact of Ebola Epidemic in West Africa: Corporate Gangsters, Multinationals & Rogue Politricksters" on African New Dawn Radio over on WRSU, 88.7 FM at Rutgers University in New Brunswick, New Jersey.  The show streams live on the web at: www.wrsu.org