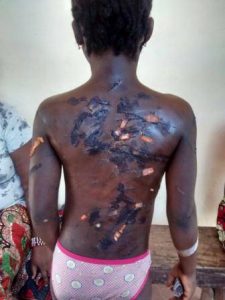 The Ministry of Social Welfare, Gender and Children's Affairs (MSWGCA) today 21st *February* 2017, has continued to follow up on the topical matter of an assaulted girl child whose case was sent to court for justice. The girl was brutally whipped with an electric cable for allegedly stealing Le12,000. It can be recalled that the perpetrator already pleaded guilty last week. After examining the clear evidence of gross inhumane display of Child Abuse, Magistrate Carew of the Kambia Law Courts has sentenced the perpetrator to jail for 27 Months without any option of fine levied.
MSWGCA is continuing to monitor the child's welfare and ensure she gets the best service provision needed for her sustainability. We are happy to report that her biological mother has already been traced and is now awaiting reunification with her daughter.
Meanwhile, the Honourable Minister of Social Welfare, Gender & Children's Affairs Dr. Sylvia Olayinka Blyden has extended appreciation to her staff at the Kambia district office especially the District Head, Madam Naomi Conteh for efforts in child protection, child welfare and promoting child justice in Kambia. The minister also had special thanks for key partners like the Family Support Unit (FSU) of the Sierra Leone Police and the Advocacy Movement Network (AMNet).
It must be noted that this is not the first time teenagers have suffered abuses and human right violations in the hands of their parents or caretakers in this country. Even though there are strict laws against such acts, perpetrators usually go unpunished as traditional and cultural norms always take president over human rights in post conflict Sierra Leone
Human right defenders are welcome to contact the Kambia Branch of MSWGCA on +232-76-790439 for further enquiries.