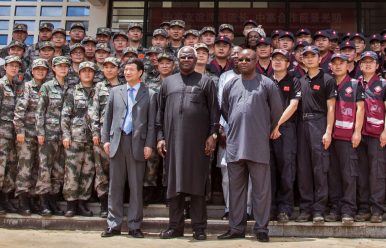 U.S. Secretary of State Rex Tillerson's warning, made on his first and last official visit to Africa, that "African countries" should be careful not to "forfeit their sovereignty" in their dealings with China seems particularly pertinent as Sierra Leone heads to the polls for the second time later this month. Following an inconclusive result in the first presidential election last Tuesday, the next election will be a two-horse race between the ruling All People's Congress (APC) and the Sierra Leone People's Party (The National Grand Coalition, once touted as a likely contender to break Sierra Leone's two-party system, was decisively routed, achieving only 6.9 percent of the vote). Support for the APC, which came in a narrow second place in the first round of voting, stems from a surprising source; not just from native Sierra Leoneans, but also Sierra Leone's biggest trading partner, China.
A stir was caused recently by footage of ethnically Chinese men campaigning alongside the APC in full party uniform, raising the issue of direct partisan involvement by China in Sierra Leone's political process. This is but the latest in a long string of such incidents confirming the close relationship between the APC and the ruling Communist Party in China. In 2017 construction began on a seven story "Friendship Building" donated by the Chinese Communist Party (CCP) to the APC and earlier this year at an APC rally supporters could be heard chanting "We are Chinese! We are Chinese!", an expression of support for the country that has poured vast amounts of resources into Sierra Leone.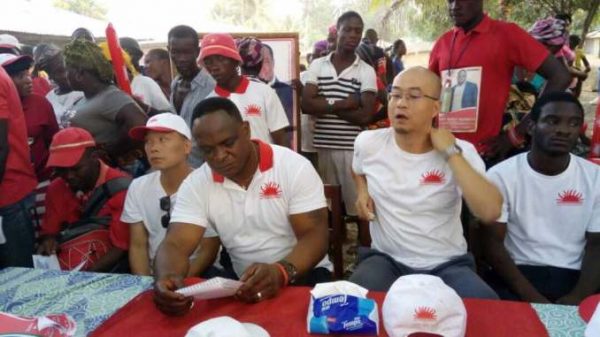 Under President Ernest Koroma, Chinese investment in Sierra Leone has significantly expanded. Under Koroma's headship, Chinese resources have been poured into a new freeway system, a hospital, and a $318 million airport. It is the last of these investments that has received particularly sharp criticism. Both the World Bank and the IMF have criticized the project, suggesting that this hugely expensive project is a poor use of resources when Sierra Leone is still recovering from a devastating Ebola outbreak. It is projects like this that informed Tillerson's criticism  of China's "predatory loan practices" in Africa.
However, while the United States remains the leading aid donor to Africa, it was China that took the lead in responding to Sierra Leone's Ebola outbreak and to the global fall in iron ore prices, which badly hit the country in 2014. Indeed, Koroma is supportive of China's influence in his country. Speaking in China in 2016 he praised Chinese investment: "[W]ith the support of friends like China we have been able to roll out programs of recovery to restore our utilities, get our services back and provide support for our private sector to get the market properly operating again."
Whether this close relationship with a foreign power will help Koroma's party as they proceed to the polls for the second time remains to be seen. His party is suffering in the aftermath of the Ebola epidemic, the drop in the price of iron ore, and a huge mudslide in Freetown, the capital city, last year, which killed approximately 1,100 people. While the rally cry of "We are Chinese" confirms some support for the Asian giant among Sierra Leoneans, it seems many share Tillerson's concerns regarding China's "predatory loan practices" and use of imported Chinese workers over native Sierra Leoneans. Similar sentiments won the 2011 election for Zambia's Micheal Sata who attacked an equally heavy Chinese presence in his own country, memorably stating that "Zambia has become a province of China."
Even if the Sierra Leone People's Party manages to win the election, however, it seems unlikely that the increased Chinese role in Sierra Leone will be overturned altogether. The relationship between the two countries runs deeper than links between the APC and the CCP, going back to Sierra Leone's independence in 1961. However, while a loss by the APC in the forthcoming election might not herald the rejection of Chinese investment in Sierra Leone, it could represent a rejection of something more significant and more sinister: direct involvement by the Chinese Communist Party in the free elections of an African nation.
China's move into Sierra Leonean politics, coming at a time when Chinese President Xi Jinping is taking decisive steps to undermine democracy in China, is but another aspect of China's growing influence over Africa. With China expanding their "soft power" via the Kenyan television market and their military power with the establishment of a naval base in Djibouti, it remains to be seen whether Tillerson's warning will be heeded by Sierra Leone.