By Sheku F. Sesay, Kenema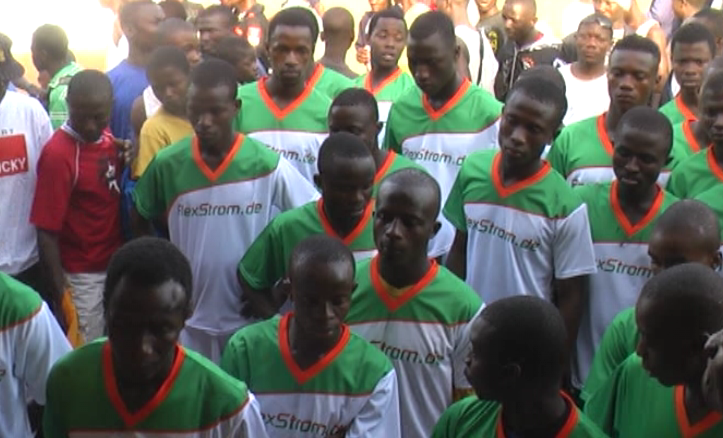 FlexStrom GmbH, an energy provider based in Berlin Germany, in collaboration with Fambul Tik für die Benachteiligten e.V. (FTB) and Youth in Action for Development (YAD), a charity organization operating in Sierra Leone, has boosted sport in some villages in the Kenema district, eastern Sierra Leone in preparation ahead of the forth coming presidential and parliamentary elections due in November this year.
The support which included 30 footballs and 36 vests were donated to Giehun Kojo, Bendoma in the Malegohun chiefdom and Vaama and Matakan, Niawa Chiefdom in the same district.
Speaking at the opening ceremony of the match, the Executive Director of Youth in Action for Development (YAD), Ms. Christabel Adama Decker informed the beneficiary communities that the match was cosponsored by FTB and FlexStrom GmbH both of which are based in Berlin – Germany and the project is implemented by YAD. The tournament, they said, was to foster peace and reunification between the participating communities since they are said to have been at loggerhead as a result of grudges they accumulated during a civil war that officially ended about 10 years ago. "It high time to reunify you so that you can remain peaceful and calm during the upcoming elections" she stated.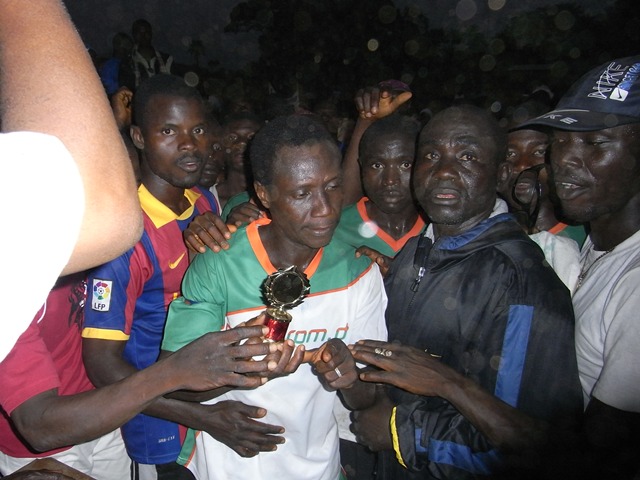 Receiving the football kits and footballs donated, the Vice Paramount Chief of Malegohun Chiefdom, Mr. David Kabo thanked FlexStrom , FTB and YAD referring to their gifts as an extraordinary gesture. "Though there is no electricity in the part of the world we are living, but the footballs and vests presented to us by FlexStrom tells us that it management does sympathize with our situation", he said. The tournament, he said, would serve as bridge between the participating communities so that they can once more reunify together and get over their difference.
The match ended with one to zero in favor of the hosting community, Ngiehun.
The winner (Giehun) received the cup, three footballs, one set football vest with FlexStrom inscriptions on it plus Le 250,000.00; the looser received Le 150.000.00, one set football vest with FlexStrom inscription plus three footballs. Matakahun who didn't participate in the match due to one reason or the other, received one set football vest and three footballs.