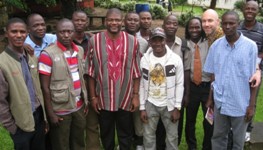 Deutsche Welle Akademie trainers with funds from the German International Corporation (GIZ), has commenced two-week training in Liberia to build the capacity of journalists in Sierra Leone and Liberia to report effectively and adequately on the Extractives Industry.
Twelve journalists from both Sierra Leone and Liberia are taking part in the training which is being held at the St. Joseph's Catholic Convent along Mamba Point in Monrovia, Liberia. The extractives sector in Africa is a multi-billion sector that is mostly dominated by outside players
The training will last for about two weeks and journalists from the two countries will have to share experiences during this period. The project aims to give Liberian and Sierra Leonean journalists the instruments they need to provide their audiences with balanced, objective and impartial information on extractive industries with a view to promoting public debate on resources and making their use more transparent.
The objective of the training is to also increase public awareness about the Extractive Industry in a bid to ensure transparency and accountability. Peter Kluczny, a GIZ official based in Liberia, said the training is a Mano River Union project that aims to increase public awareness on large concessions that can have a significant impact in terms of generating tax revenue, which does not always benefit local communities and populations of host countries where they operate.
He said Liberia and Sierra Leone are emerging from a period of prolonged civil war and is working to rebuild its economy, infrastructure and social fabric, but recent development in the extractive industry demands the need for increased public education. The lead trainer of the workshop, Kate Hairsine, said the role of the media is to educate the public about the Extractive Industry so that the people affected by the industry will hold duty bearers accountable.
She said that the Extractive Industry is a viable sector but little is reported about it in the media for public debate in ensuring transparency and accountability. Kate Hairsine pointed out that with diversified debate on the Extractive Industry; it creates understanding of the benefits and its challenges.
Ralph Hotte, an investigative journalist with over 20 years of experience explained to journalists about the significance of creative writing, research and self-thinking with facts.