By Dennis Kabatto, CEN, USA

On September 18, 2011, Washington, DC based Sierra Leone Council of Representatives (SALCORE) will host a special memorial service and Awujoh for the late Mrs. Hilda E. Taylor, the only Sierra Leonean who died during the September 11, 2011 attack at the Pentagon.
The memorial comes exactly a week after an elaborate and solemn official ceremony was held at the Pentagon presided by Vice President Joseph R. Biden Jr. and other US government officials to mark the 10th anniversary of American Airlines Flight 77 inconceivable crash into the Pentagon – US military headquarters in Arlington, Virginia killing 184 people including Mrs. Taylor.
She was a passenger on American Flight 77 accompanying Bernard Brown 11 a sixth grader on a field trip to California sponsored by the National Geographic Society on September 11, 2001 when her plane slammed into the Pentagon. According to Leckie school officials, while in the Channel Islands National Marine Sanctuary, the group was to hike, kayak and work with marine biologists to study oceanic life.
Mrs. Taylor, who would have been 68 years old, was born in Sierra Leone and a dedicated veteran sixth grade teacher at Madeleine V. Leckie Elementary School in Washington, DC. Taylor came to the United States many years ago in search of a better life for herself and her children. She received a master's degree from the University of the District of Columbia.
"She was very enthusiastic, very dedicated," said Denise Sessoms, the assistant principal. "She was always seeking new and creative learning experiences for her students. Parents looked forward to having their children in her room."
After Sunday's 10th year anniversary commemoration at the Pentagon, Betty Carter, grandmother of Leckie Elementary School student Bernard Brown, feels that more has to be done to sustain the memory of the incident by seeking an official recognition of her grandson and one of his teachers.
"We have petitions being circulated to change the name of Leckie Elementary School to the Bernard Brown and Hilda Taylor Elementary School," Carter said.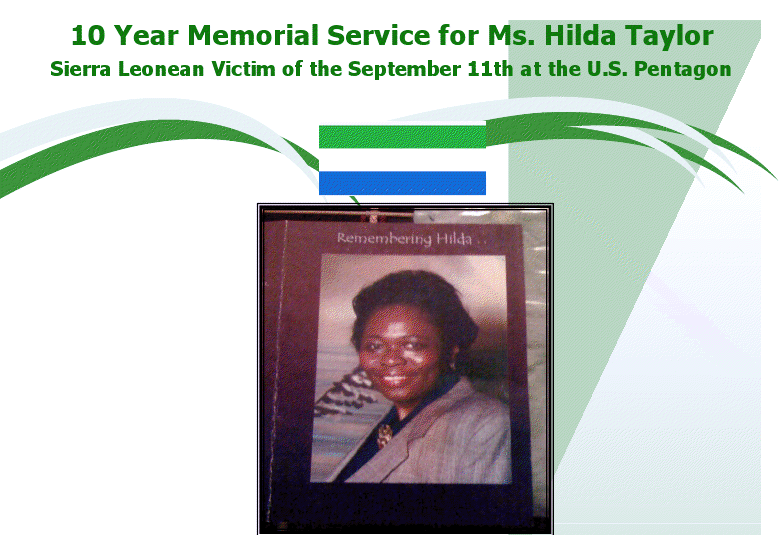 A mother of three, Mrs. Taylor lived in Forestville, Md., and was known for preparing dishes from Sierra Leone for friends. In her spare time, Taylor liked to romp with her 8-year-old grandson, Reinhardt Stafford, and tend to her garden. She loved to plan projects to capture her students' attention, according to an Associate Press profile.
"The news of her death was devastating, I cannot really explain to you but Hilda was the sole provider of my Family, I missed her greatly as if she was my real mother," said Mr. Edward Bangurah – Mrs. Taylor' son-in-law who is currently residing in Marlboro, Maryland and still grieving 10 years after her death.
During a recent phone interview Mr. Bangurah reiterated Mrs. Taylor's kindness "she was a loving person, very helpful to everybody and even supporting her two surviving sisters and brother in Salone. Every year around September 11, my wife Octavia gets sick and lose weight thinking of her mother," Mr. Bangurah declared.
Mariama Turay, president of SALCORE and lead organizer of the special memorial said though she didn't know Mrs. Taylor personally, as a Sierra Leonean she nonetheless attended her funeral services 10 years ago in 2001. Aunty Mariama as she is popularly known in the Salone community, urges all Sierra Leoneans in the DC, Maryland and Virginia (DMV) Zone to make it their duties to attend and render their respect for Hilda at Sunday's special memorial.
Mrs. Taylor was survived by 3 children, Octavia Bangurah (oldest child), Dennis Stafford 45, currently in Freetown and Donald Stafford (who died a year after her mother's death in 2002) a brother in Bowie, Maryland and 5 grand children.

The memorial service will take place on Sunday September 18, 2011 from 8:00-9:00 pm at The Mirage Hall located 1401 University Boulevard, East Hyattsville, Maryland 20783.

For more information, please contact:
Mr. and Mrs. Octavia and Edward Bangura Daughter and son in-lawL202) 257-4438 / (240) 606-2123, Mrs. Doris KessebehL202) 505-9576, Ms Audrey Pabs-Ganon (301) 346-9691, Mrs. Mariama Turay (301) 439-2425, Mrs Patricia Omo Thorpe (240) 460-5821, Ms Yolanda Thompson (301) 974-9592, Olive Chalobah (301) 322-2242