Comment/Ghana Development, By Kofi Akosah-Sarpong, CEN, NY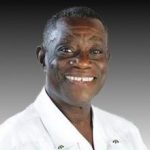 President John Atta Mills
Let's go into the mind of President John Atta Mills, a PHD in law, and envision with him his infatuation with God.
In this imaginary Ghana, there are no ethnic problems, no sanitation plight and no vehicular accidents. Poverty is wiped out. God would be in such control that nobody would blame witchcraft, evil spirits or demons for their existential tribulations. Ghanaians would have enviable life expectancies. There would be no infant or maternal mortalities. There is wonderful human security. Ghanaians are highly educated and all have the same income. There is perfect gender equality. Every Ghanaian eats well, drink and bath with very clean water. There will be no diseases to worry Ghanaians. All Ghanaians sleep well and have deep peace of mind.
Ghana would stop to be on the 130th position of the 169 countries ranked by the United Nation's Human Development Index that measures human well-being globally. Ghana would have the highest development indicators in the world.
On and on it goes. Dr. Atta Mills' God-ruled Ghana would pile up dazzling development indicators for Ghanaians. All the earlier post-colonial African development impediments such as the state being in some sort of dystopian wasteland of Idi Amin's barbarism or Jerry Rawlings' incomprehensible moral disaster or Murmmar Gaddafi's frightening utopian Green Book planet will be no more. Democracy, the rule of law, social justice, freedoms, equality, good governance, prosperity, liberty: all are closer reality.
The point in looking at Dr. Atta Mills God-possessed mind isn't to poke fun at him. Or at least, it isn't triviality. Aside from Dr. Atta Mills's fascination with God, to the point of sometimes infuriating Ghana's development game, there is not much that's unusual in this vivid exercise in the Dr. Atta Mills God-mania futurology.
In his almost two-and-half years since becoming President, Dr. Atta Mills practically tops all Ghanaian Heads of State in his obsession with God. Behind this climate is Dr. Atta Mills mired in prophets of all stripes. The Ghanaian political chatting class is constantly abuzz with all kinds of gossip about Dr. Atta Mills and his dalliance with prophets in the seat of government, the Osu Castle.
The attention-seeking Nigeria prophet, Temitope Balogun (TB) Joshua, founder of the highly rated The Synagogue, Church of All Nations, appears to have entrapped Dr. Atta Mills spiritually. TB Joshua is alleged to have prophesized that Dr. Atta Mills would be President of Ghana during the 2008 presidential election. Superstitiously, Dr. Atta Mills visited TB Joshua before the 2008 presidential elections in Lagos, Nigeria. Prophet TB Joshua is a vastly noted man of God in Dr. Atta Mills' God cosmos.
Like Grigori Rasputin, the Russian mystic who had immense influence on the Russian Emperor Nicholas 11, TB Joshua has comprehensively powerful sway over Dr. Atta Mills. No doubt, as democracy help Ghanaians to exercise their freedoms and thinking, Dr. Atta Mills' fixations with God and prophets have become popular mass media and social media talks and jokes.
The general views from the commentators are that with his PHD in law, as long time professor of law at the University of Ghana, as an administrator with some academic publications, and with his lovingly mature age of 65, Dr. Atta Mills is expected to glow with soaring rationality within the context of the irrationalities hindering Ghanaians' advancement. Some Ghanaians are convinced that Dr. Atta Mills is rationally fragile, has weak grasp of Ghana, is basically unrealistic, and have feeble sense of God's place in Ghana's progress.
In his campaigns for the presidency, Dr. Atta Mills not only borrowed from US President Barack Obama's "change" mantra but also fixed his campaign pictures beside Obama's. The end of story. And the beginning of the search for the actual Obama in Dr. Atta Mills. Though far older than Obama (who just turned 50) and with Obama stuck in the dense development issues left by his predecessors that have let him grow gray hair in just two-and-half years as he struggles to solve the problems, critics of Dr. Atta Mills' too-much-God-talks think he should talk very rationally, realistically, deeply and plausibly like Obama in the context of Ghana's development struggles.
Obama is very religious but he doesn't waste all his time exasperatingly and illogically on God when tackling thorny development matters in the difficult United States political climate. Obama's God-given cerebral powers are constantly at display as he confronts the United States' development challenges. Ghanaians are yet to see this broadly in Dr. Atta Mills.
Nevertheless, over time Dr. Atta Mills' God-issues have become nauseating. His latest God-this-God-that was at Fetu Afahye festival in Cape Coast, the capital of Ghana's Central Region, where traditional oracles, shrines, mosques and churches of all character compete for spiritual prominence in the atmosphere of fear of witchcraft, demons, evil spirits and malevolent forces. In Cape Coast, Dr. Atta Mills told superstitiously gullible Ghanaians "it was God who set up kings and therefore the next President for the country lay in the hands of the Almighty God."
There is nothing wrong in Dr. Atta Mills saying this in a culture that has strong belief in God. After all, the basis of most progress begins with deep spiritual practices. The American thinker Francis Fukuyama indicates in The End of History and The Last Man that the root of Western progress cannot be fully discussed without its spiritual origin. But the spirituality has to be unambiguous and not entangled in false believes in prophets, juju-marabou mediums, witchcraft, demons, evil spirits, supernatural beings and malevolent forces.
Such traditional spiritually unhelpful entanglements have impacted unconstructively on Ghana's real progress. The community in the northern part of Ghana that believes in God but also believes in witchcraft and left a baby named Mercy to die in a room simply because they believe (wrongly) that she is a witch, is in need of a Dr. Atta Mills who will simultaneously talk God and talk rationalization of believes in witchcraft within the Ghanaian culture so as to save the life and the human rights of baby Mercy and her community from such destructive thinking. In the Dr. Atta Mills' presidency, the God talk hasn't been equal to the rational talk in the Ghanaian development actuality.
In the authentic Ghana, as the impending 2012 general elections looms, there may be God in the affairs of Ghanaians but the next President, come 2012, will be elected based entirely on the exercises of Ghanaians' God-given rational faculties that are expected to help them rationalize issues, policies and programmes of either President Atta Mills' ruling National Democratic Congress (NDC) or the main opposition National Patriotic Party (NPP) or the minority Convention People's Party (CPP).
God surely will not physically get involved in the 2011 general elections: God will rather let Ghanaians weigh the contending personal merits, issues, policies and programmes presented by the political parties to vote the next President and Members of Parliament of Ghana.
The simple truth about Dr. Atta Mills in the past two-and-half years is that his awkward God-obsession has been met with a good number of Ghanaians increasingly pressurizing him to emit systematic reasoning in tackling the development challenges facing them. And not the quixotically God-will-solve-the-development-problems (some very dire) ways of thinking.