Dennis Kabatto, CEN, USA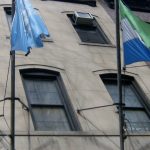 Sierra Leonean Mission in NY
New York: The Executive Representative of the UN Secretary General and head of the United Nations Integrated Peacebuilding Office in Sierra Leone (UNIPSIL) Tuesday delivered his Seventh Report on the progress of the work in Sierra Leone to the UN Security Council.
Mr. Michael von der Schulenburg told the Security Council that though Sierra Leone remains on track to become a stable democracy with a viable economy, recent violent incidents between rival political groups have highlighted the potential for unrest.
"I feel that this is an occasion to commend in this Council the people of Sierra Leone for what has been achieved during the last nine years in consolidating peace and building a democratic society," said Michael von der Schulenburg, when he presented the UN chief's latest report on the country to the Council.
On the recent clashes between supporters of the two main political parties, Mr. Schulenburg, urged Sierra Leonean politicians not to forget what the country has achieved, build on those accomplishments and conduct their affairs responsibly.
"Elections are still one and a half years away and this must not start to embitter the social and political climate in Sierra Leone," said Mr. Schulenburg, who is also the head of the UN Integrated Peacebuilding Office in Sierra Leone (UNIPSIL).
He called for resolving of outstanding issues ahead of the next year's general elections, including reaching agreement on the polls' legal framework and an electoral code of conduct. Mr. Schulenburg voiced support for the idea of an inclusive and non-partisan national conference floated by President Ernest Bai Koroma to discuss the country's future.
He told the Security Council that Sierra Leone's economy continues to grow and that the Government was implementing infrastructure projects and pursuing a policy of privatization. Iron mining is expected to generate considerable revenues for the country in the coming years, he said, cautioning that transparent management of new resources could pose challenges.
Mr Schulenburg also cautioned of widespread poverty, youth unemployment and limited capacity for the delivery of social services, however, continue to put a damper on the country's development potential.
"Notwithstanding the creation of the Youth Commission and concerted efforts by development partners, no substantive success has been made in fighting Sierra Leone's rampant youth unemployment," he said.
He called for the better targeting of development programs implemented through better cooperation between the Government, its development partners and the private sector.
Sierra Leone Minister of Foreign Affairs and International Cooperation Mr. Joseph Bandala Dauda attended the Security Council release of the Report in New York
In his statement, he thanked the UN Security Council and friends of Sierra Leone for their "relentless support and active interest in consolidating peace and maximizing our gains in post conflict efforts in Sierra Leone. The Secretary-General's report accurately catalog the progress made and remaining challenges in our peace efforts and peace consolidation and transition to a more developmental phase."
Minister Dauda assured the Council that Sierra Leone government "will continue to engage with ALL stakeholders as was demonstrated in working with UNIPSIL to established the government's aim at preventing political violence, fostering inter-party dialogue…further enhancing women participation in politics."
He disclosed that Sierra Leone "is also making steady progress in putting structures in place to addressing youth unemployment which continues to be a challenge, trans-national organize crime, corruption, participation of women in peace building, public service and gender based violence," he added.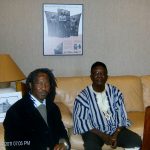 Minister Dauda also briefed the Council on the steps taken by President Ernest B. Koroma in response to the political crisis in Bo including his condemnation of the incidents and convening an emergency security meeting at State House that was attended by leaders of the Sierra Leone Association of Journalists (SLAJ), Campaign for Good Governance (CGG) Political Party Registration Commission (PPRC), the Minister of Defence, the Minister of Internal Affairs, the Deputy Minister of Information & Communications, the Chief of Staff, Inspector General of Sierra Leone Police and key representatives of political interest groups.
This month the Council is expected to renew the mandate of UNIPSIL which expires on September 15th. The renewal of UNIPSIL mandate comes at time of high tension between political parties in Sierra Leone due to regional loyalties that divide party lines. Distrust between the parties and contest of presidential and local by-election have raised concern over a possible resurgence of political violence and intolerance in the country.
UNIPSIL was established by Security Council Resolution (1829) of August 4, 2008. Its mandate involves political and development activities to support the government of Sierra Leone indentifying and resolving tensions and threats of potential conflicts; monitoring and promoting human rights, democratic institutions and the rule of law including efforts to counter transnational organized crime and drug trafficking.
The mandate also calls for consolidating good governance reforms, with a special focus on anti-corruption instruments such as the Anti-Corruption Commission amongst other activities.
Sierra Leone is one of five countries – along with Burundi, the Central African Republic (CAR), Guinea-Bissau and Liberia – on the agenda of the UN Peacebuilding Commission, which was set up in 2005 to help post-conflict countries avoid slipping back into war.
A link to the entire report is here: (S/2011/554 ) and you can also view the Security Council Meeting on UNIPSIL at this link: http://www.unmultimedia.org/tv/webcast/2011/09/sierra-leone-security-council-meeting.html