The Department of Information and Public Affairs of the Permanent Mission of Sierra Leone to the United Nations wishes to inform the general public that the United Nations Security Council today extended the mandate of the UN Integrated Peacebuilding Office in Sierra Leone (UNIPSIL) for another year. During a session this morning , the Security Council unanimously adopted a resolution to extend the mandate until September 15 next year .
The Permanent Representative of Sierra Leone to the UN, Ambassador Shekou M. Touray and senior diplomatic staff member, Counselor Saidu Nallo , were present.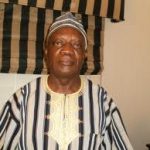 Foreign Minister Hon. J.B. Dauda
Shortly after the session , we conducted an interview with the Minister of Foreign Affairs and International Copperation , Hon J.B. Dauda ( who is presently in New York ) . We asked him to express how he felt about the successful extension of the mandate. In response, Minister Dauda said : "I feel satisfied and happy because we still need the presence of UNIPSIL in Sierra Leone to help to consolidate our peace process . We want them to stay up to the 2012 Presidential and Legislative Elections . "
Asked about the nature of the relationship between the Foreign Ministry and UNIPSIL, Minister Dauda said that UNIPSIL is working in close collaboration with his ministry. He stated further, "We also have the PeaceBuilding Commission ( PBC ) ,which is a Sierra Leone Configuration responsible for the consolidation of peace . It is also the organization that raises funds for the implementation of the Joint Vision of Sierra Leone and the UN. "
We also sought the Minister's comment on the call by the Security Council on the Government, political parties and stakeholders "to contribute to ensuring that next year's elections are peaceful, transparent, free and fair". Responding, Minister Dauda said : "That is our commitment to the International Community, including the UN, that we shall conduct the 2012 elections in a free, fair, transparent and credible manner and in accordance with international standards. "
SIGNED : LEEROY WILFRED KABS-KANU
PERMANENT MISSION OF SIERRA LEONE TO THE UN