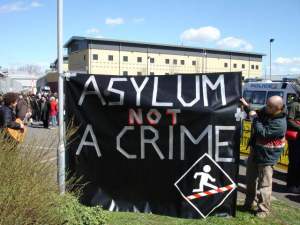 The belated issue of Sierra Leonean refugees in The Netherlands has again taken centre stage during discussions held recently between the Ambassadors of the two countries in Dakar.
The discussions are a logical follow up of several similar ones held in the past between the two governments that culminated in recommendations by The Netherlands for the repatriation of the refugees to Sierra Leone.
"My government is enquiring as to what has happened to those recommendations and is asking for action on the part of your Government," the Dutch Ambassador Gerben de Jong enquired from Her Excellency Khadijatu Bassir.
Responding, Ambassador Bassir acquiesced that there were a number of Sierra Leonean refugees and illegal immigrants in the Netherlands but sometimes on investigations only four out of ten of alleged illegal aliens would turn out to be "our genuine citizens". This she recalled was her experience while serving in Brussels.
It can be recalled that foreign Affairs Ministry and Immigration Department officials of both countries have visited and screened the refugees to ascertain their nationalities.
Ambassador Bassir explained that during the civil conflict, "most of our passports ended up in the wrong hands, especially to nationals of other West African sister states."
She assured Ambassador de Jong that her government has not brushed aside the issue but rather, it was awaiting cabinet attention.
At the end of the discussion on the issue, the two diplomats conceded to take a fresh and closer look at the memorandum of understanding signed between the United Kingdom and Sierra Leone with regards refugees, to draw from that experience with the view to restart the (repatriation) process.
The Dutch envoy then revealed plans by his government to assist in the repatriation process and also provide technical training for returnees to help them stand on their own once they returned to Sierra Leone.
Furthermore, the two diplomats dilated on common social and economic phenomenon in their respective countries as well as youth unemployment, business, tourism, peace and how to foster closer cooperation.
Ambassador de Jong recounted his visit to Sierra Leone and described our patrimony as a beautiful country with a lot of investment potentials that business people in both countries can tap into.
"You people just needed to add value to your products, especially diamonds and create a bureau in your country so that people can buy directly from it," he suggested.
Ambassador de Jong supported Ambassador Bassir's yeaning for President Koroma to win a second mandate considering the "immense work" he is doing for his country.
Her Excellency Ambassador Khadijatu Bassir commended the government and people of the Netherlands for their years of stability that had kept them out of negative news.
On the vital issue of peace, "Sierra Leone has since the end of her civil conflict, never had very negative flash point," Ambassador Bassir concluded. Ambassador Bassir was accompanied by the Head of Chancery Sahr Johnny.
By Ralph Ese'Donnu Sawyerr, Information Attaché, Sierra Leone Embassy in Senegal and The Gambia