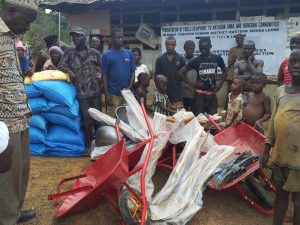 Youths in Action for Development (YAD), a local non-governmental organization based in Kenema, eastern Sierra Leone, in collaboration with it's oversea partner – Fambul Tik e.V. which is based in Berlin – Germany, has delivered millions worth of tools/equipments and food commodities to the Matakan, Nogowa and Vama communities in Nyawa Chiefdom, Kenema district. Among the items delivered were shovels, pickaxes, wheelbarrows, mattocks, head-pans and food commodities including rice, magi and salt.
Delivering the items, the Fambul Tik Project Coordinator, Mr. Othman Sheriff, informed the communities that the items were donated by his organization and other philanthropic institutions based in Germany prominent among which is the Aktion für Selbstbesteuerung (asb). The items, he said, are meant to be used for irrigation of Inland Valley Swamps (IVS) and reconstruction and rehabilitation of the six kilometer road that links the communities with the Potoru/Blama highway.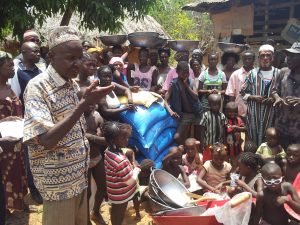 Receiving the items, the community headman, Mr. Mustapha Koroma thanked the German organizations for the donation adding that his community will work hands in glove with YAD to utilize the tools, equipment and food items for the intended purpose. "I wish to hereby thank Fambul Tik e.V. YAD and all other philanthropists in Germany who made those items available for us at this desperate point in time", Mr. Mustapha concluded.
On behalf of female headed farm families, the women's leader, Mrs. Benne Kamara, expressed her sincere gratitude and thanks to the philanthropic organizations for the gesture extended to them in this farming season adding that she will leave no stone unturned to make sure that every female member of the community participate in the development projects particularly the Inland Valley Swamp cultivation.
According to a joint assessment and sensitization meeting recently conducted in the project community with representatives of Youth in Action for Development, Plan International, the local council and farm families in the community, it's expected that the United Nation's World Food Programe (WFP) will deliver "food for work" to the community through Plan International while Plan will provide more tools.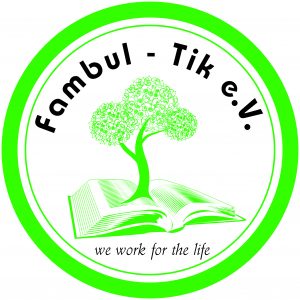 It must be noted that YAD in collaboration with Fambul Tik e.V. are currently embarking on various developmental projects in the community including construction of a standard primary school to enable the children acquire better education, agriculture and food security for female headed farm families in order to ensure food security and economic productivity in their individual and collective lives, road rehabilitation to facilitate fast movement of goods and services in the community.
Fambul Tik e.V. is a non-governmental, non-religious and non-profitable organization formed in Germany with the primary aim of helping poor women, youths and children in Sierra Leone and it has been doing so since the year 2007. While youth in Action for Development (YAD) is a local NGO based in Kenema and it's active in Nyawa and Malegohun chiefdoms in the Kenema districts in the areas of youth mobilization and sensitization activities, agriculture and child protection in the district.