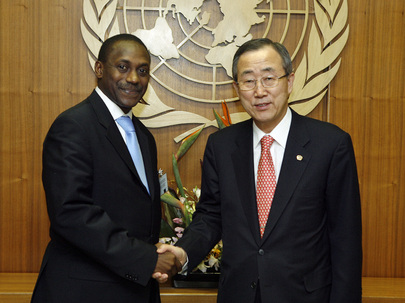 United Nations Secretary General, Ban Ki-Moon has selected Sierra Leonean born UNIDO Director General, Kandeh Yumkella and Chairman of the Board of Directors of Bank of America, Charles Holliday, to co-chair his High Level Group on Energy Access issues. (L to R – Kandeh Yumkella and UN Sec Gen Ban Ki-Moon Photo Credit: UN Photo / Eskinder Debebe.)
Both men have been charged with delivering the Global Action Agenda in the lead-up to the Rio + 20 conference on Sustainable Development which will take place in Rio de Janeiro, Brazil recognizing the 20th anniversary of the 1992 United Nations Conference on Environment and Development (UNCED) held in Rio de Janeiro and the 10th anniversary of the 2002 World Summit on Sustainable Development in Johannesburg, South Africa.
In an effort to garner support and action for his Energy Initiative from all levels, Secretary General Ban Ki-Moon has mandated the High Level Group to "bring together leaders from government, finance, business and civil society and establish partnerships that will make sustainable energy for all a reality."
"Sustainability has been debated for 20 years and more," said Ban Ki-Moon. "It has been endorsed by conferences and governments. But it has not become an integral part of our policy DNA," he continued. "We have yet to succeed in changing business as usual. We must ensure that sustainability can be sold – both in the rough and tumble marketplace of electoral politics and in the commercial marketplace where money talks," underscored SG Ban Ki-Moon.
Energy, which has been referred to as the missing Millennium Development Goal by experts and advocates alike, is critical for human progress — for health, education, job generation and economic competitiveness. For the developing world, energy poverty is devastating.
Speaking to Chairman and UNIDO Director General Yumkella at the 2011 United Nations Private Sector Forum and Sustainable Energy for All conference, he highlighted the importance of energy for developing nations and the billions who lack such access. "Energy powers human progress," he said. "From job generation to economic competitiveness, from strengthening security to empowering women, energy is the great integrator: it cuts across all sectors and lies at the heart of all countries' core interests," he maintained.
"Now more than ever, the world needs to ensure that the benefits of modern energy are available to all and that energy is provided as cleanly and efficiently as possible. This is a matter of equity, first and foremost, but it is also an issue of urgent practical importance. Ensuring sustainable energy for all is essential for meeting two of the most pressing challenges of our time – reducing poverty and minimizing the risks of climate change," stressed Yumkella.
By working collaboratively with governments, private sector, civil society, it is the hope of Secretary General Ban Ki-Moon's Energy Initiative that the vision of "ensuring universal energy access, doubling the rate of improvement in energy efficiency and doubling the share of renewable energy in the global mix by 2030" will not only be achieved but can help in revitalizing the global economy, help combat climate change, and go a long way toward ensuring equal opportunity for all.
By Anthony Abdul Karim Kamara, Jnr. Reporting from the United Nations Headquarters in New York.