By Sorie Fofana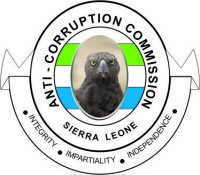 The Truth and Reconciliation Commission Report of 2004 discovered that "endemic corruption was a central factor that produced the dire conditions that made civil war inevitable. Sierra Leone remains in the grip of pervasive corruption, which, if not arrested, will sap the country of its life force and lay the grounds for further conflict".
Sometime this week, under this column, I wrote that President Ernest Bai Koroma has shown greater commitment to tackling corruption in the country than his predecessor, Ahmad Tejan Kabbah. And I tell you why. During Kabbah's era, the British government, the main backers of the Anti Corruption Commission insisted that the ACC must be given a free hand to prosecute persons accused of corrupt practices even without the Attorney General's fiat. Kabbah insisted that he would not surrender the powers of the Attorney General to the ACC. A tug of war broke out between Kabbah and the British government. After a private meeting between President Kabbah and Prime Minister, Tony Blair at No. 10 Downing Street, it became very clear to some of us who spoke to Kabbah in London after that meeting that relationship between Britain and Sierra Leone had become strained.
Immediately after he returned home, Kabbah wrote a personal letter to the then Dfid Minister, Hilary Benn asking him to withdraw the then head of the Dfid Office in Sierra Leone, Richard Hogg. The letter was hand-delivered to Hilary Benn by the then Sierra Leone High Commissioner to the UK, Melvin Chalobah.
I was part of a Sierra Leone delegation, led by the then Vice President, Solomon Berewa that held a meeting with Hilary Benn in London. Benn insisted that Sierra Leone would be "severely punished" if immediate steps were not taken to allow the ACC a free hand to prosecute all pending corruption cases without having to go through the Attorney General's office. He also insisted that the ACC must be allowed to prosecute a close political ally of Kabbah if progress in the relationship was to be made. Berewa insisted that the Sierra Leone government would not accede to both requests. I realized that Berewa was under strict instruction from Kabbah not to negotiate the Sierra Leone government's position.
Dr. Kadi Sesay, who was the Minister of Trade and Industry at the time, was also part of that delegation. She was really not at ease with the government's position, because, she indicated that to me when we left Hilary Benn's office at No. 1 Victoria Street in central London.
When Ernest Bai Koroma came to power in 2007, he gave the ACC the carte blanche to prosecute all corrupt officials without even going through the Attorney General's office. That was how Ernest Bai Koroma became the darling of the West. Some of his closest allies were arrested and prosecuted by the ACC even without the President's knowledge.
Who would have thought that Afsatu Kabba, a powerful figure in the APC and a close friend of the President would have been arrested and prosecuted by the ACC?
Val Collier, the first –ever Commissioner of the ACC finally fell out of favour when he sent armed OSD personnel to arrest a Cabinet Minister in a dawn raid at his Spur Road residence. It was clear that Val Collier, in his desperation to keep his job, wanted a big fish in the government prosecuted. In the end, the Minister was never charged to court for lack of sufficient evidence.
A Parliamentary committee, headed by the current Clerk of Parliament, Hon. Ibrahim Sesay was set up to investigate Val Collier for violating procurement rules. After his first term as Commissioner ended, Kabbah refused to renew it. Val Collier was later appointed by President Koroma as Chairman of the Public Service Commission, a position he still occupies.
Timbergate Scandal
The talk that the world famous Journalist, Sorious Samura was hired by the APC leadership to dramatically end the political career of Vice President Sam Sumana could best be described as laughable. Does the President need to hire the services of an undercover Journalist to destroy the political career of an appointed official?
It has been very clear to everybody, long before now that VP Sam Sumana was no longer the President's choice for running mate. VP Sam Sumana would have been naïve if he had not known that before the Timbergate scandal broke out.
Some of us had defended our Kono brother, VP Sam Sumana when we thought that some people in the APC were bent on hounding him out of office. I wrote a very critical article about the APC leadership under the headline, "Is This The Way To Treat A Sitting Vice President?"
If Sorious Samura was hired by the APC to destroy VP Sam Sumana, then, the APC did not realize the collateral damage that the Al-Jazeerah documentary would have done to their government's image in the international community. If VP Sam Sumana is forced out of office, he will surely go down with the APC government. Mark my word!
Way Forward
The best way to handle this particular scandal is to allow VP Sam Sumana to quietly reflect on the damage that this Al Jazeera documentary has done to him personally and to his Party and do the necessary thing by throwing in the towel. If he refuses to go, he will be a lame duck Vice President until his term expires in 2012.
On the other hand, if President Koroma wants to gain politically out of this scandal, he can now go ahead and name his running mate for 2012. By that way, he would have taken the wind out of the sail. The President can then travel to Kono, the VP's birth place and tell the Kono people that their son fell on his own sword that is why he had been replaced.
VP Sam Sumana has paid the highest price for allowing himself to be messed up by some greedy and selfish criminals parading as APC operatives.
Very recently, the British Defence Secretary, Dr. Liam Fox had to resign after one of his friends used his (Liam Fox's) office to discourse defence contract possibilities with some Asian arms contractors.
VP Sam Sumana should be allowed to go in a very dignified way. Afterall, he has served his Party and country dutifully for four years and more.
Thank you very much and have a pleasant weekend