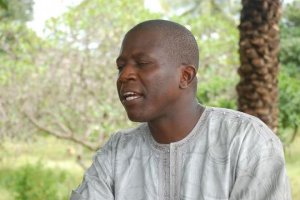 The long arm of President Ernest Koroma reached Professor Ogunlade Davidson yesterday at his Electricity House forcing him out of office as Minister of Energy and Water Resources.
An urgent Press Statement from State House yesterday, informed the public that the Professor has been sacked, which means, he and would no longer be a part of President Koroma's Cabinet.
The press release states in no uncertain terms: "it has pleased His Excellency to appoint Mr. Oluniyi Robin-Coker as Minister of Energy and Water Resources, subject to the approval of Parliament."
Within minutes of the State House release, Freetownians went into top gear to discuss and speculate why the Professor has been removed from office.
Reacting to the news of Prof. Davidson's removal from office, John Conteh, a businessman on Siaka Stevens Street said he was not surprised about the sack. He said, "The sudden power cuts around Freetown and the continuous problems with water supply were good enough reasons for the President to remove him from office.
It will be recalled that when Prof. Ogunlade Davidson was appointed by the President almost two years ago, he warned staff at the National Power Authority (NPA) that he was not there to make friends but to work. This statement, according to many at the NPA, did not go down well with the staff, and it is believed that the erstwhile Minister never had good working relationship with his staff at the Electricity House.
"The appointment of Oluniyi Robin-Coker, as the new Energy Minster is sure to bring energy, know-how and a sense of purpose in Ministry; but most importantly, a total commitment to the President's Agenda for Change," a political observer stated last night.
Niyi, as he is commonly called by friends was until yesterday one of the President's advisers at State House. He is expected to be approved by Parliament in the coming days.