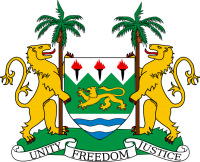 PRESS RELEASE
IN THE PAST FEW WEEKS, SEVERAL MEETINGS WERE HELD AT STATE HOUSE TO REVIEW OUR ENERGY PROJECTS.
THE OUTCOME OF THESE MEETINGS HAS LEFT HIS EXCELLENCY THE PRESIDENT WITH THE CONCLUSION THAT THE MINISTRY OF ENERGY AND THE NATIONAL POWER AUTHORITY HAVE NOT PROVED THEMSELVES EQUAL TO THE TASK OF MANAGING THE IMPLEMENTATION OF OUR ENERGY PROJECTS.
IN CONSEQUENCE THEREOF, HIS EXCELLENCY THE PRESIDENT HAS DECIDED TO RELIEVE MR. OLUNIYI ROBBIN-COKER, MINISTER OF ENERGY AND MR. MARTIN BASH-KAMARA, DEPUTY MINISTER OF ENERGY OF THEIR DUTIES WITH IMMEDIATE EFFECT.
FURTHERMORE, ALHAJI B.E.SEISAY, PERMANENT SECRETARY, MINISTRY OF ENERGY, DR. ZUBAIRU KALOKOH GENERAL MANAGER, AND MR.DENNIS GARVEY, DEPUTY GENERAL MANAGER, NATIONAL POWER AUTHORITY ARE ALL SUSPENDED FROM DUTY WITH IMMEDIATE EFFECT PENDING APPROPRIATE DISCIPLINARY ACTION TO BE INSTITUTED AGAINST THEM.
E N D
STATE HOUSE
FREETOWN 17TH FEBRUARY, 2014