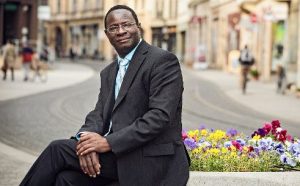 When Karamba Diaby finished third in his party's state primaries last February, the result catapulted him into the national spotlight. Now, after Sunday's federal elections here, Mr. Diaby's place in German history is guaranteed.
And he is sharing the spotlight. For the first time, Germany has elected black lawmakers into the Bundestag, Parliament's lower house. One was Mr. Diaby, a member of the Social Democrats, from Senegal, and the other is Charles M. Huber, a former actor with a Senegalese father and a German mother.
Although both failed to secure direct mandates from their districts, they managed to get elected through Germans' second votes, which are cast for so-called party lists.
"We were celebrating until 3 in the morning," Mr. Diaby said in a telephone interview, adding that it was not until early Monday, when he looked at the Bundestag's Web site and found a list of newly elected candidates, that he knew the results were official.
That Germans had never elected a black member of Parliament, despite the presence of a large immigrant population, was often cited as an indication of the sometimes-rocky relationship between the country's ethnic majority and minorities.
"It was a historic victory," said Mr. Huber, who will represent an area that includes the city of Darmstadt. "I've often been confronted with being the first colored man to do something."
Mr. Huber, 56, known for his role in a popular German crime series, is a member of Chancellor Angela Merkel's conservative Christian Democrats. Born in Munich, he comes from a prominent Senegalese family — his father was a diplomat and his uncle, Léopold Senghor, a former president of Senegal.
"Politics is a tradition in our family," Mr. Huber said. "Somehow it was meant to be."
Mr. Diaby, 51, grew up in Senegal. The youngest of four children, he was raised by his sister after losing both of his parents by the time he was 7. In 1985, he came to East Germany to study chemistry in Halle.