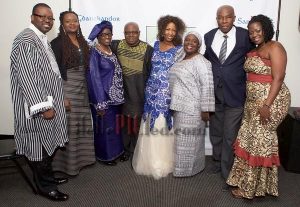 For the first time in over 20 years, the oldest Sierra Leonean organization in the US, Kono Union USA Inc. is cleaning its own house! Under the no-nonsense leadership of globally recognized anthropologist Dr. Fuambai Sia Ahmadu, the KUUSA is once again poised to regain its status as one of the largest and most vibrant diaspora ethnic associations in the DMV area. 
"It hasnt been easy", says Dr. Ahmadu as I caught up with her for a quick chat a few days ago. "When I took over, Kono Union was dead. No executive board. No members. The organization hadn't even been legally registered for over 17 years!"
At the time Dr. Ahmadu decided to contest for the Presidency in February 2014, the Union was plagued with accusations of embezzlement and misappropriation of funds. KUUSA was left to die a painful death amidst a divided community. Dr. Ahmadu explains how her own family pleaded with her to stay away: Kono Union is hopeless. Kono Union is cursed. You can never bring Kono people together. Don't waste your time and good reputation.
Clearly not one to shy away from challenges no one else wants to take up, Dr. Ahmadu was elected unopposed, after her contender withdrew from the race. She became the first female and US born president of this historic organization. Unsurprisingly, Dr. Ahmadu put together a youthful, mostly female executive board with several US born members. 
She stated quietly, "when I think about it, I felt it was important for us to be forward looking, to invite the younger generation of US born Kono descendants to come on board. I still feel that the hope for a developed, economically thriving and unified Kono District lies primarily in the hands of a new generation bringing some new ideas and a fresh, different mindset."
In just a year and a half, Dr. Ahmadu has led her executive team through the drudgery – getting KUUSA legally registered, opening a new bank account, adopting a constitution and delving deep into their own pockets to sponsor social activities: Museum trips, monthly happy hours, a successful awards gala and importantly, spearheading protests against the illegal sacking of the highest profile son of the soil – the elected Vice President, Hon. Chief Alhaji Samuel Sam Sumana. 
This past summer Dr. Ahmadu was hosted by the prominent Kono District Development Association (KDDA) in London where she left a memorable mark on everyone. Together the two transatlantic sister organizations, KDDA and KUUSA, will spearhead a global Kono Conference slated for later this year.
But Dr. Ahmadu's most important legacy is to leave a clean house at Kono Union.  The Kono Iron Lady emphasized that discipline must prevail within the Union, "there has to be change at KUUSA; members have to learn and abide by the rules of comportment at General Assembly meetings.  KUUSA is not a place to 'talk case' between warring individuals and families. Union meetings is a place for the conduct of KUUSA business and not to settle old internecine political or family scores." 
Because of her firm stance and willingness to go to whatever lengths necessary to guarantee order and civility, Dr. Ahmadu and the new, modern Kono Union have their malcontents: In fact, many in the Sierra Leone community worldwide were shocked to see the circulation of recent social media postings that allege violence and all sorts of more lurid improprieties. A male KUUSA member, Mr. Sahr Yamba, has has filed charges of second degree criminal assault against Dr. Ahmadu. 
"Obviously with regard to assault charges, the case is still active in court so I cannot comment",  Dr. Ahmadu responded. "What I can say is that my character, professional reputation and extensive experience in various Sierra Leone community organizations speak volumes. The allegations are ridiculous and social media postings are mostly comical". 
"What is more worrying and should be of concern to all sensible, progressive Sierra Leoneans who care about gender equality is that as an unmarried female leader in a male-dominated organization, I am a target for certain kinds of sexual insults and innuendos of promiscuity. I have learned the difficult way that this kind of sexual abuse goes with the territory of women in leadership who are trying to make changes in our African communities."
"As for the actual publication of a specific defamatory article, written by one Abubacarr Kamara and published in an online paper called Makoni Times, I am consulting with my legal advisors. There are laws in place that regulate defamation of character with respect to Facebook and other social media. Sierra Leoneans are not exempt from these laws."
"My own challenge right now is to focus on what I intend to achieve during the rest of my tenure as President of KUUSA. My goal is to work with other serious minded leaders in the US, back home in Sierra Leone and globally to improve the lives of people in Kono District. My own father, Komba Ahmadu, along with his colleague the late Dr. Sahr Tongu founded Kono Union in the late 60s in an effort to build unity and solidarity among our people in the US and back home. He believed in the spirit and letter of Kono ay Kono fa (a Kono will never kill or harm a fellow Kono). I want to help ensure this ancestral motto remains a lasting legacy for Kono Union USA, for Kono descendants worldwide and for our children and grandchildren. Kono is rising!"