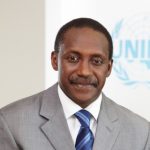 Over the past weeks I have been involved in several policy debates, where the good news about sub-Saharan Africa's very promising economic prospects has been touted by me and others (in spite of the interruptions by Boko Haram and conflicts in Central African Republic and South Sudan). Written by Dr Kandeh K. Yumkella.
Some of the best news was about the energy sector, as revealed at the recent World Economic Forum (WEF) in Abuja, Nigeria. The chief economist of the International Energy Agency (IEA) revealed that, globally, one third of new oil and gas discoveries in the past five years were in Africa and nine out of 12 such discoveries in 2012 were made on the continent (including Kenya, Liberia, Mozambique, Sierra Leone, Tanzania, to name but a few).
The Nigerian Petroleum Minister and some oil company executives revealed that the country has over 170 TCF of natural gas making it the eighth-largest gas country in the world. Mozambique and Tanzania are not far behind. A group of countries led by South Africa and Nigeria pledged to work together to make the Grand Inga a reality, unlocking a potential hydropower generation capacity of 40,000 megawatts.
Opportunity or conflict
I also met young African leaders at the Abuja-WEF pondering how and when this energy bonanza can be translated into bold transformative visions, strategies and real actions on the ground to create decent jobs for their peers and unleash economic prosperity. In fact, some also wondered whether African nations can avoid conflicts and Dutch disease. Does the energy resource boom mean that Africa will no longer be called the "Dark Continent"? Does it mean that Africa now has the means to power its industrialisation and not just export resources to electrify other nations?
One week after the Abuja-WEF, I was in Moscow to keynote the 14th International Energy Forum (IEF), a formidable group of all major oil and gas producers and major energy-consuming nations created after the first Gulf War. I was impressed to see the African delegations proudly taking their seats (especially my brothers from the new oil and gas countries). Ironically, 70-80% of the energy poor reside in countries who are members of the IEF. My central message was that the IEF could serve as the motor for scaled-up international cooperation to end energy poverty and solve climate change.
Solving energy poverty
Africa needs this kind of mutual cooperation platform to deal with almost 600m people without electricity and about 800,000 premature deaths per year due to household air pollution. But more importantly, Africa needs to use IEF as a source of technology and know-how to end the notorious gas-flaring problem. We know that tons of gas are flared per year and billions of dollars burned, all of which is enough to power half the continent.
Africa also needs to establish joint ventures for downstream value-addition for producing fertilisers, plastics, LPG or for gas-to-power projects. In short, I hope that the new African oil and gas countries will avoid the mistakes of their peers, who are being fixated with exporting energy resources and forgetting to turn the lights on at home.
Two days later, I was in Kigali, Rwanda, for the 49th Annual Meeting of the African Development Bank (AfDB) under the theme: 'The Next 50 Years: The Africa We Want'. One of the many sessions held was organised by my team and the SE4ALL Africa Hub of the AfDB. During the event, Donald Kaberuka, President of the AfDB, launched the Decade of Sustainable Energy For All (SE4ALL) to promote universal access to energy throughout the continent by 2030.
He announced that, in keeping with the vision of SE4ALL, his bank recently approved a $1bn loan to Angola for major energy sector reforms, governance and unbundling, while providing $300m to Nigeria for de-risking private finance in the power sector in response to their successful reforms.
Our energy future
Concerning the future, Mr Kaberuka stated that one of the keys to Africa's prosperity will be "to make the regional energy markets work" through very deep sector reforms to unbundle generation, transmission and distribution, improving the governance and commercial viability of the public utilities, and facilitating the flow of private investment and technology deployment.
In short, the creation of integrated and commercially viable regional power pools for mutual energy security and prosperity is in order. To achieve such regional energy markets, I proposed the creation within each Regional Economic Community of an African Energy Leaders Group (AELG) to serve as the champions for the creation of regional public-private-partnership platforms, with the sole purpose of driving large transformative investments into national and cross-border energy projects and transactions.
Omar Ben Yedder, Group Publisher of IC Publications and one of Africa's young leaders, pressed me to explain how the AELG would work in practical terms, since he heard me make the same proposal in Abuja a week earlier.
Energy as the integrator
The AELG will be similar to the founding of the European Union by a small group of four to six countries focused on expanding the economic opportunity of their citizens by optimising the use of coal and enhancing the competitiveness of their steel industries.
One of the keys to Africa's prosperity will be to make the regional energy markets work through very deep sector reforms to unbundle generation, transmission and distribution
In other words, coal (an energy resource) served as the catalytic integrator of their markets, and today there are 27 nations in the community with interconnected grids, common energy frameworks and targets for mutual energy security.
Though the domestic implementation of the framework at national level is flexible to suit local resource endowments and economic conditions, the vision of collective energy security and diversification of supply sources remains paramount.
How can we apply this model to Africa?
Within each regional economic community or power pool, we select a small group of leaders based on three parameters:
(a) Their common commitment to ensure energy security through joint projects and leveraging their rich energy endowments;
(b) Their proximity to one another, and hence the ease of cross-border power trade; and
(c) The commitment of their political leadership to deep power-sector reforms to crowd in both domestic and foreign private capital into generation, distribution and value addition (in the case of oil and gas, value addition to produce fertilisers, plastics and liquefied petroleum gas (LPG)).
Each group will have five to seven heads of state, five to seven CEOs, who are investors in the power sector or are major users of power in manufacturing or telecoms, or two to three bankers. Note that there are more private sector members than public sector members, so as to ensure that discussions/issues remain focused on driving investments, along with key performance indicators to measure progress every year.
Thus the West African ELG (WAELG) will include the Presidents of Côte d'Ivoire, Burkina Faso, Ghana, Nigeria and Senegal, plus private sector titans such as Aliko Dangote, Tony Elumelu, Ecobank CEO Albert Essien, MTN CEO Sifiso Dabengwa and Strive Masiyiwa, founder and chairman of Econet Wireless.
This group can work with the oil companies to develop a business model for gas to flow through the West African gas pipeline. They can push for extending the pipeline to Guinea and Burkina Faso while connecting Benin, Togo, Liberia and Sierra Leone (some of whom have also announced new oil and gas finds). They can promote investments in transmission lines and interconnections from Guinea back to Nigeria, and also revive existing projects designed by the West African Power Pool and Programme for Infrastructure Development in Africa (PIDA).
The economic benefits of WAELG will be enormous, including a reduction of gas flaring enough to produce 750bn kWh power. Ghana, which currently has an installed capacity of 3,000 megawatts, can now supply its surplus power to Nigeria, which has only 4,000 megawatts installed capacity but needs over 40,000 megawatts. Guinea can build its Souapiti hydropower project not only to smelt its bauxite and produce aluminium but to feed the power pool.
Liberia can also add value to its vast deposits of iron ore perhaps to produce steel, while Côte d'Ivoire and Ghana can transform their dominance of raw cocoa and coffee production into competitive advantage and leadership in the higher-value global chocolate and associated products markets.
Some countries could emerge as energy exporters, as is the case for Laos, which earns about $1bn every year from electricity export to Thailand, or Paraguay exporting energy to Brazil. The East African ELG could be led by Ethiopia, Kenya, Mozambique, Rwanda, Tanzania and Uganda in a similar public-private configuration, building on the East African Power pool.
Is this scenario a hollow dream? Well, almost 60 years ago, Kwame Nkrumah built the Akosombo Dam. Our generation should not be any less ambitious with our new-found black gold.
* is also currently the Secretary-General's Special Representative for Sustainable Energy for All and Chief Executive Officer of the Sustainable Energy for All Initiative (SE4ALL). Previously, he was a two-term Director-General of the UN Industrial Development Organisation (UNIDO)