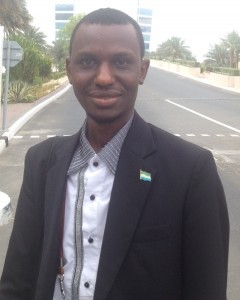 Sierra Leoneans in the United Arab Emirates (UAE) last week held a one-day meeting of all their nationals in the commercial city of Dubai.
At the end of the meeting, they officially formed what they called 'The Sierra Leone Nationals' Association in the Emirates," (SLNAE) with Ibrahim Bah as their Acting Chairman.
In a telephone interview with the new leader, he said a good number of Sierra Leoneans across the UAE attended the meeting that saw the birth and formation of the SLNAE. He says this recent development, will go a long way in contributing positively towards the general and social well being of not only Sierra Leoneans in the United Arab Emirates, but also the hundreds of Sierra Leoneans going on business trips to that commercial city.
The formation of the SLNAE in the UAE comes few weeks after President Ernest Bai Koroma officially visited the country on the invitation of the Vice President, Prime Minister and Ruler of Dubai, His Highness Sheikh Mohammed bin Rashid Al Maktoum. At the end of his three-day official working visit, President Koroma addressed a cross – section of Sierra Leoneans at the Jumeirah Hotel in down town Dubai.
Addressing them, the president encouraged his nationals to think of going back home and join hands with the government in the drive to rapidly transform the country. He added that he recognises the tremendous contributions, especially remittances they are making to friends and families back home which he said, is going a long way towards the economic development of the country.
The president also informed them about his government's achievements in the areas of agriculture, health, education, electricity, among many other achievements.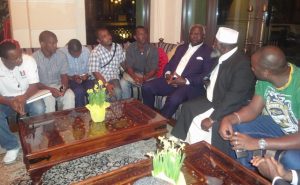 A spokesman for the Sierra Leoneans, Sheik Abubakar Mansaray expressed appreciation to the president on behalf of his compatriots for taking time off his busy schedule to address them on the achievements of his government.
He said President Koroma won the last presidential elections because of his very good track record and the sincerity Sierra Leoneans saw in him to deliver. He encouraged his compatriots living in the Gulf States to go beyond politics and support President Koroma's vision of developing the country.
He showered praises on the president for his visionary leadership which has brought great hopes to Sierra Leoneans in the Diaspora. He added that the president's vision since he assumed office in 2007 has been focused on building a healthy nation, setting the relevant structures for building on the energy sector, health, education, agriculture, transportation and infrastructure development.
"I think the President deserves commendation particularly for the massive electricity supply in the capital and the installation of solar lights in most parts of the country, including my home town of Kailahun," the Sheik concluded.