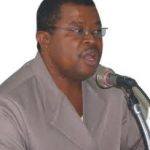 Freetown — Minister of Agriculture, Food Security and the Environment has cautioned Sierra Leoneans not to politicise the issue of agriculture if only Sierra Leone was to be developed to a level that would suit all and sundry.
Speaking at the weekly Ministry of Information and Communications press briefing, Dr. Joseph Sam Sesay noted that his ministry brought in about 331 tractors and that all were distributed on demand and supply basis countrywide.
"The tractors were not distributed on political basis, they were distributed on demand and supply basis and all districts had equal opportunity," he said. According to him, most farmers have refused to pay in full for the tractors but that his ministry would take drastic action either by naming and shaming the defaulters or taking court action against them.
"We are disappointed that out of all the tractors that were given out, only 59 farmers have paid for them in full. My ministry in collaboration with the Sierra Leone police will soon take a drastic move to see that defaulters face the law," he threatened.
The minister vowed that his ministry will withdraw all tractors in the hands of farmers who refused to pay for them in full. He informed newsmen that the Agriculture ministry has recorded significant successes, but reckoned there were still many challenges, including funding.
"My ministry has succeeded in constructing 141 out of the planned 150 agricultural business centres (ABCs) nationwide," he reported. "We are faced with challenges of funding especially in the area of processing."
Dr. Sesay informed journalists that he has extended the construction of feeder roads to 339km instead of the planned 300km.