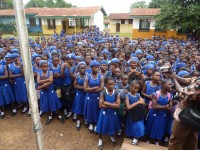 The newly transferred Assistant Inspector General of Police (AIG) in the Eastern Province, Alfred Karrow Kamara has warned school pupils against truancy from school, stating that as a law enforcement agency, the police will ensure that pupils stay in schools to acquire the education they need.
"As long as I remain as AIG-East, I will do everything possible within my powers, to ensure that school children stay in schools and in classes during school sessions," AIG Kamara stated.
He was addressing well over eighty pupils from different schools and their parents on Wednesday, morning 12th March 2014 at the Regional Police Headquarter that were arrested for truancy when schools were in session.
He disclosed that during his last meetings with principals and other stakeholders, he was informed by Principals that most of the school children do not enter classes and that they hang around either within the schools' vicinities or other places like "Banga Farm along Dama Road, Nyandeyama market, Borma market, plane field, Islamic and Holy Trinity fields and Methodist corner among others until schools' sessions ends. He said he was told by the Principals that this singular popular action of the pupils is among the major factors responsible for the massive failures in external examinations in the region.
The AIG on his part said he assured the principals that he will do everything possible to stop such an act in the city and the region, describing it as "unfortunate". He said he will be deploying his personnel on regular basis to monitor school vicinities for pupils that stay out of the classroom while schools are in session. He told the parents to warn their children to stay in classes as he will fall heavily on any one that is caught in truancy. He declared that henceforth, school pupils in uniform will be subjected to on the spot search by police officers anywhere and anytime depending on police interest.
The AIG further told his audience that his action will not only affect Kenema city and its environs but the entire region and that he has informed his Commanders to do the same in areas under their jurisdictions.
Most of the school pupils in Kenema city have now resorted to calling the police in Kenema city "Karrow Boys" whenever they sight them.
The pupils that were arrested by police on Wednesday were warned and details recorded before handing them over to their parents.
Some of the parents who spoke to Awoko newspaper expressed full support for the AIG's stance stating that the action will not only benefit the children but the parents and the community.
One of the parents stated that the police have the full backing of the parents because most of them as parents do not have the chance to monitor their children when they take off for schools.