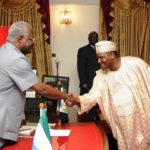 FREETOWN, SIERRA LEONE -The richest man of African descent in the world is making huge investments in establishing various factories in Sierra Leone.
The Nigerian billionaire and founder of the Dangote Group, Alhaji Aliko Dangote on Thursday 1st September 2011 briefed President Ernest Bai Koroma on the status of his business venture in the country at State House during a courtesy visit.
Disclosing plans for starting cement and steel factories as a first step, the businessman declared; "I really appreciate your efforts Mr. President and in January, 2012 a cement factory will be producing three times the current national output".
According to Alhaji Dangote, millions of tons of cement will produced in the first quarter of 2012, with one hundred Sierra Leoneans employed initially, while plans are being finalized to further promote economic growth, through investments in power generation and agriculture.
Speaking to the Communications Unit Office of the President, Alhaji Dangote said "the policies of government and the leadership of President Koroma are of key partners and no feasibility studies are conducted because we have confidence that he is very serious and a President with openness and vision".
President Koroma in response expressed delight for selecting Sierra Leone to manufacture steel and cement, which will meet local demands, create opportunities for businesses and increase efforts in meeting the demand for business in the country.
He said the venture will also support economic growth and the development the private sector that is being facilitated by government.