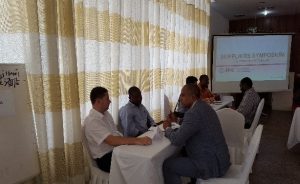 AMR Gold new Country Director-Luke Rogers on Thursday, 15th September 2106 attended a one day symposium organized by a member of the World Bank Group.
The "Meet the Buyer" Symposium held at the Bintumani Hotel, Aberdeen in Freetown brought together more than two hundred participants from the public and private sectors to help Small and Medium Enterprises (SMEs) market their products to private and public sector buyers.
This, according to the organisers, will help grow their capacity to contribute to the recovery of Sierra Leone's economy as part of the Ebola Recovery and Reconstruction initiative.
In her statement, HussinatuLanlaYilla a World Bank Consultant commended AMR's invaluable participation. She added that "we look forward to potential business opportunities being generated from some of the interactions you had with the SMEs."
Organized under the World Bank Group SME Business Linkages program, the one-day event was part of a broader "Becoming More Effective in the Value Chain" training program designed to give SMEs the opportunity to better understand procurement procedures and codes of conduct, and therefore be better equipped to work with large corporates and the public sector. Participants had the opportunity to network, pitch their products and services to prospective public and private sector buyers, and access business opportunities.
The symposium included presentations on the SME Business Linkages program in the region, panel sessions and a series of one-to-one meetings between procurement representatives of the large corporates and more than two hundred local SMEs suppliers in the Agribusiness, Tourism, Mining, Construction and Manufacturing sectors.
IFC's Resident Representative for Sierra Leone and Liberia-Frank Ajilore, said: "IFC is committed to developing SMEs in Africa because they are powerful engines of growth and job creation. Through workshops and seminars, we are promoting sustainable business growth in Sierra Leone and across the region. This Symposium marks the conclusion of the training program and offered SMEs the opportunity to meet procurement decisions, with the hope of creating longer term relationships for sustainable market access".