Dear Hon Minister,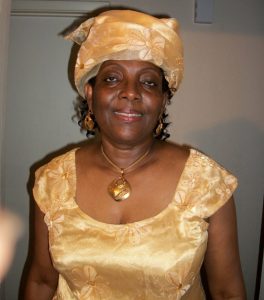 For the past days and weeks, you would have been aware that incidents of political violence and the blatant misuse of state security apparatus have rocked the by-elections in constituency 001 in Kailahun and constituency 050 in Port Loko. Your conspicuous silence over these incidents is part of the corrosive elements destroying public's trust in politics and politicians.
Madam, when you are a Minister of Political and Public Affairs, more than anything else, the public expects you to live by the standards you set. Too often members of the public lose faith in politics and politicians not because those who are in politics are "bad people" but because the expectation some politicians create in the minds of the people they woefully fail to live up to that expectation.
When you took up office, you were confronted with two consecutive incidents which related to SLPP – the Independence Day celebration fracas and the Kenema stabbing. Looking back now, many members of the public would think those incidents created a golden opportunity for a new minister who wanted to catch the attention of the President.
Madam Minister, you wasted no time to savage the SLPP in your statements reacting to the incidents. As a matter of fact, in your reaction to the Independence Day fracas at the SLPP headquarters, you were so much in a haste that the first statement you released was roundly criticised and you had to grudgingly release a corrigendum.
You even milked the Kenema stabbing in your 29th May statement by expressing concern over the recurrence of violence by SLPP members. Yet it seems utterly disingenuous that you have failed to express the same concern over the recurrence of political violence by APC members in both constituencies 001 ad 050.
It was repulsive for many members of the public and I hope it was for you too, when they saw images of human excreta defacing the office of ADP, the vandalism of vehicle and reports of stabbing and beating of members and supporters of ADP in Lunsar. You chose to be silent in the face gross indecency and thuggery because those who were the perpetrators were your comrades.
In the Kailahun by-election, the political violence has been simply about state officials, state security apparatus and thugs wanting to hijack the democratic process of the people of constituency 001 to elect their true representative – Mrs Navo Kaikai – an outstanding candidate who is smart and hardworking with a sense of commitment to make a difference in the lives of her constituents.
And don't you feel embarrassed by your colleague ministers, when a statement by the National Election Watch dated 18th June stated that APC supporters during their campaign led thugs to the house of the SLPP candidate, Mrs Navo Kaikai resulting in pelting of stones and shooting of tear gas and those who were identified as front liners in the scene were Mr Allieu Bah, Minister of State, Mr Maya Kaikai, Minister of Local Government and Rural Development and Mr Augustine Nyuma Kortu, Deputy Minister of Labour and Social Security?
Madam Minister not that members of the public expect any better from a Government which is known for ministers and their deputies fighting and throwing invectives; where cabinet ministers engage in mud-slinging, proxy war and smear campaign against one another on social media or where a cabinet minister can be accused of instructing the closure of a mosque to prevent another APC comrade from observing Friday prayer. It is no secret that the public conducts of certain government ministers have eroded the public's confidence in the governance of the state.
Also, you told us in your 29th May statement that your Ministry is charged with the responsibility of providing oversight on the activities of political parties in the country, why have you been so silent when SLPP members and supporters in constituency 001 have been subjected by APC thugs and state officials to intimidation, violence, thuggery and police brutality?
What oversight did you provide when thousands of SLPP members and supporters who engaged in peaceful campaign rally were stoned by APC thugs and targeted by police with tear gas and live bullets because APC felt jittery of the presence of the most popular politician in the country, Rtd. Brig. Bio? Or was it just a case of the Madam Overseer pretending to be sleeping on the job when her APC comrades were executing a pre-arranged plan?
Madam Minister, part of the objective of your ministry is also to promote democracy and good governance but how do you promote good governance when your colleague Minister can manipulate a magistrate court in Kailahun to issue a search warrant on Wednesday 6th July on the basis of a spurious claim of unlawful possession of arms and ammunition by the SLPP candidate, Mrs Navo Kaikai at her premises?
After the search warrant was executed in which nothing was found at her premises, Madam Minister you can now seize this opportunity to condemn this blatant intimidation against Mrs Navo kaikai if you really believe in promoting good governance and democracy.
As a gentle reminder Madam Minister, when you took and subscribed to the oath in the Third Schedule, you affirmed to faithfully and conscientiously discharge your duties. I entreat you now to do the right thing and help to restore faith in politics by having the courage to condemn all acts of political violence, intimidation and police brutality that have been deliberately perpetrated against SLPP members and supporters in constituency 001 and ADP members and supporters in constituency 050.
You can also restore the public's trust in your leadership of that Ministry, if you will name and shame all your colleague ministers who have colluded with other state agents in Kailahun through violence and intimidation against Mrs Navo Kaikai and members and supporters of SLPP.
Over to you Madam Minister!
I remain,
Yusuf Keketoma Sandi
An ordinary and concerned citizen