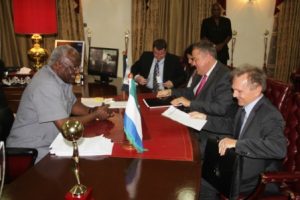 The European Union has said that it will monitor the presidential, parliamentary and local council elections to be held in Sierra Leone on November 17 following an invitation from authorities of that African nation.
The European bloc said in a statement on Wednesday that Richard Howitt, chief of the EU Election Observation Mission (EU EOM), had arrived in Sierra Leone's capital Freetown. He would introduce the rest of his team at a press conference scheduled for Friday.
A core team of six EU election analysts had arrived in Freetown on September 27. They will soon be joined by 28 long-term observers and 50 short-term observers from 27 EU member states, as well as from Norway. A delegation from the European Parliament will also join the EU EOM team shortly before the election day, taking the total strength of the EU election observers to nearly 100.
"The forthcoming elections in Sierra Leone, the third since the end of the civil war, will be very significant for the stability and the democratic development of the country," EU Foreign Policy Chief Catherine Ashton was quoted as saying in the statement.
Expressing hopes that all state institutions in Sierra Leone would use the forthcoming elections to prove that they have the "capacity to organize credible and transparent" polls, Ashton said she expected all concerned parties to "engage in the process in a peaceful and democratic way."
Ashton noted that the EU has been a longstanding partner of Sierra Leone, pointing out the European bloc has been "providing electoral support to the state authorities that carry the responsibility for organizing these elections."
"In order to strengthen citizens' confidence, the independent EU Election Observation Mission led by Richard Howitt, Member of the European Parliament, is now being deployed to follow the electoral process. I wish to Mr. Howitt and his team all success in their assessment of these elections," she added.