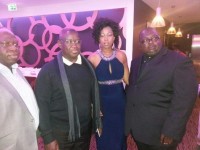 On Friday, 25 October 2013, Maada Bio, the former Head of State and Presidential Candidate of Sierra Leone Peoples Party (2012 Elections) joined hundreds of Sierra Leoneans at the Odeon Cinema, Greenwich, London, for the Premier of the Sierra Leone movie "Ibu in Sierra Leone". It was a history making event as it was the first time a Sierra Leonean movie has been premiered in London. And it was no surprise why even the Sierra Leone High Commissioner to the United Kingdom, Mr. Edward Turay, was also in attendance at the movie premiere and the Deputy Minister of Internal Affairs, Hon. Sheka Tarawallie.
On our way to the premiere, Maada Bio explained to me why he was honouring the invitation to attend the movie premiere and his vision for the Sierra Leone creative industries. Maada Bio said "The Collins Archie Pratt Production (the company which produces the movie) has done a brilliant job to show case that our country has huge potentials in the film industry and great acting talents. Therefore as politicians it is our duty to support individuals and production companies who want to promote the best our country offers". He went on "It is also important to recognise that London has become a huge international market for African movies and for over the years other African countries have utilised such opportunity so the fact that we will be witnessing the first premiere of a Sierra Leonean movie in such a grand style then we all hope it will be the start of creating an international market for our film industry"
But then as our conversation went on, he also expressed his broader vision for the Sierra Leone creative industries. Maada Bio said "our creative industries whether it is in the areas of Music, Film or Entertainment, our country has a huge pool of talented young men and women. And these industries have always contributed to our social-economic development whether it is about creating thousands of jobs for young people; musicians using their songs to preach messages of peace, love or political change; or our films showcasing our admirable cultures, the beautiful landscape of our country or talented actors and actresses. But like every other sector in our country, young people in these creative industries face lots of challenges in terms of financial support, promotion and capacity building. And this is where a responsible government will come in to create equal opportunities for thousands of young people in these industries devoid of any vested political interests, support them in building their capacities and implement initiatives to attract direct investment in our creative industries"
He went on "I know that in 2011, the government enacted the Copyright Act to address the issue of piracy which has been a serious concern for the creative industries but the law enforcement agencies have to do more to ensure that the law is fully enforced. Therefore, if I am elected again by my party, SLPP, as its presidential candidate for the 2017 elections, I will pledge that a future SLPP government will not only effectively enforce the copyright law to make sure that our young talented people in the music, film or entertainment industries benefit from their talents and individuals who make investment benefit from their returns but also to work with stakeholders in these creative industries to attract investments and see how we will explore international market opportunities for our Music, Films and Entertainers".
At the Odeon Cinema, the movie, "Ibu in Sierra Leone" has been about a boxing scam sets up by John King who pairs a boxing heavy weight, Ibu, and lightweight, Banky. John King arranges with Ibu (Heavyweight boxer) and Banky (Lightweight boxer) for Ibu to lose the fight to Banky and both fighters will in turn get 20% each of the betting profit whilst John King will get the remaining chunk of the profits. The unsuspecting public unaware that the fight has already been fixed then throw their support for the heavyweight, Ibu, to win the fight in the betting. Ibu refuses to follow John King's instruction and the pre-arranged fight fixing which means he gives Banky the beating of his life. John King then loses all his fortune in paying outs in the bets and sends his thugs to haunt for Ibu and his wife to take revenge. The setting of the movie is in Freetown and starring in the movie are: Desmond Finney, John Okafor (Mr. Ibu), Fatima Jabbie and Collins Archie Pearce.
At the end of the screening, many of the Sierra Leoneans who had attended the premiere were making complimentary remarks about the quality of the movie and the story line as it was a combination of action, comedy and romance. According to Aisha Kira Kamara, a Sierra Leonean living in London "The story line of the movie was really good as it was not as predictable as many Nigerian movies"
Maada Bio also individually congratulated Desmond Finney, John Okafor, Fatima Jabbie and Collins Archie Pearce for not only a successful premiere but also reiterated his support for the creative industries in Sierra Leone. And Collins Archie Pearce, the Producer of the movie thanked Maada Bio for making out time to attend premiere whilst John Okafor (Mr. Ibu) insisted for a photo op with Maada Bio.
As we left the movie premiere there was one thing on mind which I knew I have not discussed with Maada Bio and that is the present clampdown on the press by the APC government (The Rat Saga). On that issue, Maada Bio said "To start with it is important to recognise that as a party, the SLPP has been right to condemn the unwarranted attack on the press. At a time when ordinary people are going through worsening social-economic conditions like high prices of food and basic commodities; high youth unemployment; high infant and child mortality rates; the falling standards in our schools and colleges; the infrequent electricity supply; limited access to safe drinking water; or the poor road constructions, you would have expected the government to focus on these issues that affect ordinary people rather than clamping down on Journalists and raiding their offices". He concluded "It is a sad state of affairs and the government should understand that freedom of the press is a pre-requisite for democratic accountability and good governance"