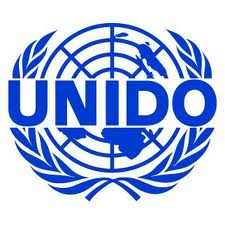 "When you have a skill, even if something bad happens in a country, you won't have a hand in it. You won't steal or hurt people willfully, and you won't take a gun for a companion," explains 21-year-old Malikie Kanneh.
Kanneh has just completed a two-year training programme to become a mechanic. He is one of the 145 young men and women who have benefited from a UNIDO project, funded by the Government of Japan, in Kailahun and Koindu in eastern Sierra Leone, a rural area bordering with Liberia and Guinea. The project, which ran from March 2011 to September 2012, provided on-the-job training for apprentices to learn various entrepreneurial skills, including carpentry, smithing, welding, auto mechanics, tailoring and weaving.
The objective of the project, managed by Seiichiro Hisakawa, was to build the local economies' resilience to shocks by improving the entrepreneurial, leadership and management skills of youth and diversifying income-generation activities in the vulnerable communities. It is one of seven projects implemented in Africa by UNIDO under the umbrella title, "Response to the humanitarian crisis in Africa". The seven projects have been funded by a US$9.8m grant from the Government of Japan.
In the first stage of the programme in eastern Sierra Leone, UNIDO selected eleven talented Sierra Leonean master-craftspeople to pass on their skills to others who had no experience of their craft, and then equipped them with the tools they needed. These trainers were taught teaching and coaching skills, both to help them to teach better, and also to reinforce the message that their apprentices would be there to learn, not to work as low-paid labour.
In the second stage, these craftspeople passed on their skills to others, like Kanneh, who would otherwise have not have had the opportunity to learn a skill. By using this apprenticeship method, which is well-established and understood in Sierra Leone, both trainers and trainees knew what was expected of them.
The project has been a great success, with about 70% of the trainees starting their own income-generating activities or finding jobs with existing businesses. In a further boost to the local economy, eight of the 11 trainers are in the process of using the experience gained during the programme to create new self-sustaining enterprises.
To give a voice to some of those trainees who now have a livelihood thanks to the programme, Kanneh and others in Kailahun District, in eastern Sierra Leone, were interviewed and photographed. The following extracts were taken from the Voices of Kailahun blog.
Malikie Kanneh, apprentice mechanic
"For me, learning was not just about making money but it was also to avoid becoming a thief. I have never stolen anything, but I used to see the boys I played football with resort to that. I am a careful person and I don't like stealing, so I wanted to go and learn something." Malikie Kanneh is originally from Shegbwema, several hours from Kailahun Town, but he left home to come to Kailahun Town when he heard about the mechanics apprenticeship. Before the training, he didn't know anything about mechanics or how to save money or develop a business. After two years of training, he is now able to repair machines even without his trainer present, and he now knows which steps to take to start his business.
Now the training has ended, this cheerful young man, who has started saving a part of his salary, wants to open his own shop and pass on his newly acquired skills to others. "I can go and teach my own friends so that we can all be working for the development of the country and ourselves. When I help my friends, I am developing the country."
Since the end of the civil war in 2002, rural eastern Sierra Leone has recovered slowly. A generation of young people experienced a decade of conflict which severely disrupted their education. Kanneh is convinced that by ensuring a livelihood for people he can play an active role in maintaining peace in Sierra Leone. As he puts it, "If someone said to me, 'go and fight over there', I would sit and think to myself, 'Am I going to leave my garage, where I can earn 10,000 Le (€1.86) per day, just to go and fight over there?' I wouldn't do it. With all the learning, I don't think that I will be influenced by anyone to do such things."
Mary Sesay, gara tie-dyer master
"What makes me feel good is the way the trainees act. I am proud of them. This project really did well for us. The hopelessness we had before has changed, and we see that we can do things by ourselves."
Mary Sesay, a renowned gara tie-dyer, lives in the remote eastern town of Koindu, on the border with Guinea and Liberia. UNIDO invited Sesay to participate in the training of trainers, as a master-craftsperson. She recalls the benefits of the training, "They taught us about how you sell, how you save money, and how you have to write everything down, and how, if you are in a group, you have to appoint someone to take care of the money. At that time, we didn't know anything about business economics but they taught us all that."
Like many others in Sierra Leone, Sesay had fled to the neighbouring country of Guinea when her town was overrun by rebels during the war. In 2007, when she returned to Koindu and to a plundered home, she brought with her the technique of gara tie-dying that she had learnt in Guinea. Her skill has helped her to fund the restoration of her home and to take care of her family: "I sent my son, Came, to Ethiopia to study computer engineering, and all through my gara tie-dying. For this reason, I take it seriously because I know what is has done for me."
Having successfully completed the teaching and coaching programme, Sesay was eager to help other women in her community develop their skills. She informed the whole town that she was looking for apprentices, "We called a meeting and 500 people came! We told them that this skill would help their home to have peace in it, because if you have a problem with your husband or you lose your husband, the group will support you and help you to know that there is hope."
She has successfully trained many members of her community, and now she wants to take the next step and open a training school.
Theresa Jackah, one of Mary Sesay's apprentices
"Everybody can do petty trading but, when you learn a skill, you can be self-reliant. Petty trading is plagued with debt, but gara tie-dye is bought by rich people who are respected and who pay."
Jackah learned a lot during her apprenticeship with Mary Sesay, "She trained me to inject the ink, to tie the cloth and dunk it, and how to colour it. She also showed me how to use candle wax and mashed cassava to change the designs. She showed me how to use the right amount of ink for those people that want their cloth to be rich, and how to design a cloth that will be expensive, as well as how to make cloth that is cheap."
Today, Jackah runs her own business and has become well-known for her work. Mary Sesay considers Jackah to be her star pupil. Jackah's life has changed with her new skill, "Gara tie-dying helps me a lot. I have made a set of cloth for my parlour. That alone can boost your morale. If somebody comes to your house, he or she will recognize straight away that you are doing gara tie-dying and be impressed. My life is changing, I thank God. Life will be better. I feel good. I feel proud."
Umaru Aruna, blacksmith and trainer
"I don't know a lot and I am not educated but I can sit where educated people sit and the community values me. The skills that you learn take you a step ahead. I have been recognized in the community more than before. I am proud of that."
Thirty-eight-year-old Umaru Aruna is a successful and passionate blacksmith in Kailahun Town. The craftsman, who developed his interest for blacksmithing at a young age, even talks about his profession in a weekly broadcast on the local radio station.
When just a child, Aruna had approached a local blacksmith to help him learn about the process. He recalls, "You could say that I was raised as a blacksmith because I was not even 10 years old when I started practicing it. I really liked the work when I saw it, so I said to myself that this is the job that I should do."
Because of this enthusiasm for his craft, UNIDO chose Aruna to become a trainer and taught him new craft skills, like how to build a cassava-grinding machine, an essential food processing tool. He also developed a different approach to business during the training, "Any business should not stay still; it should grow, so they taught us how to keep documents, how to control the site, to know if you are making profit or loss, and even how to talk to customers." He says that before, he only had few customers, but as he learned how to write contracts, his business area enlarged.
Thanks to the training, his life changed significantly. As Aruna reports, "I didn't use to save anything, but when I came back from the training, the first thing I did was open a bank account and not only that, but I also joined a credit union. So, now whatever we make, I make sure I save some." Through the credit union, he gets loans to buy additional equipment. That is an extraordinary achievement in Sierra Leone, where owing a bank account is still unusual.
Umaru Aruna encouraged his trainees to follow his example, "What I did to convince them was that I opened an account not as an individual but for us all. So, when we did some work, we saved some money, and then when we were given a loan based on our savings, we gave them 150,000 Le (€27.90) each to pay back in six months. They all saw it was a good idea and started saving on their own. Some have now opened their own accounts."
Aruna has become a very popular trainer, passing on all his crafting techniques, from manufacturing cutlasses (machetes) and steel doors to musical drums, as well the newly gained business skills. He beams, when he states that the apprenticeship with him increased his trainees' well-being. "Before, they were living apart, lonely, but now they are part of the community. They felt bad about themselves. Now there are some who have built their own houses, or who through the work have bought land for themselves."
Momo Lansana, one of Umaru Aruna's apprentices
"In the next 10 years, I want to see electricity all over this town, and taps for us to drink clean water. I'd like everyone to have enough food so we can eat with our stomachs full, and not struggle so much anymore."
Lansana hopes that with the development of his country even the remote Kailahun Town will change for the better. The father of two children knows that his skills can contribute, "When I look at my work, I see how blacksmithing work is very close to agriculture. Agriculture is at the roots of the country. We even say 'No agriculture, no development', because we all need food."
At his father's farm, there was no work for Lansana, who therefore had no means to support his own family. Lansana and his wife decided to leave their small village six miles away from town, when they heard about Umaru's workshop. "I heard people saying that the workshop would be different from the local workshops that we used to have. I also heard that there would be training there."
After one year of training, he did find a way to contribute to his father's farm by producing cutlasses (machetes) for the workmen. His whole family benefits from his apprenticeship, as Lansana enthuses, "My wife is very, very happy about this job, because I can make things to sell in the market and we can use the money for the family. Through the work I do, I have money to send my children to school."