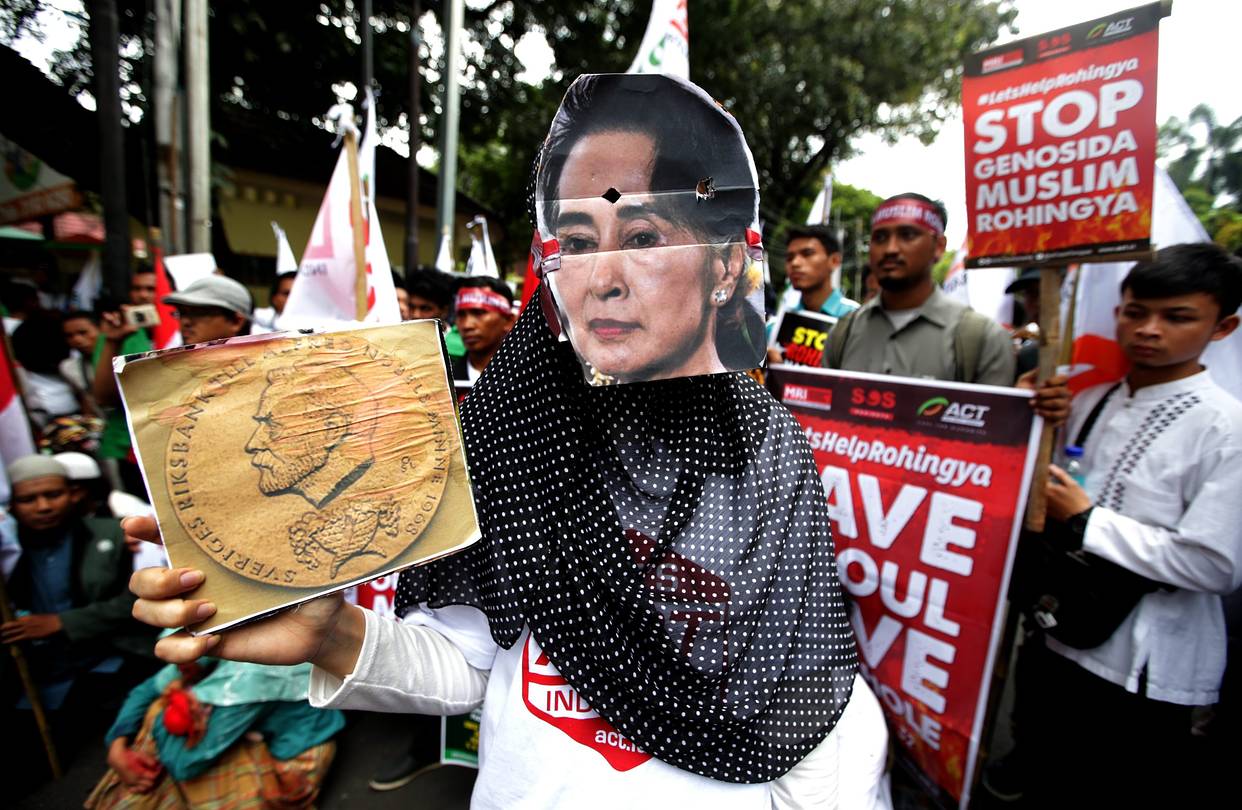 Aung San Suu Kyi led the National League for Democracy (NLD) to a majority win in Myanmar's first openly contested election in 25 years in November 2015.The win came five years to the day since she was released from 15 years of house arrest. Although the Myanmar constitution forbids her from becoming president because she has children who are foreign nationals, Ms Suu Kyi is widely seen as de facto leader (BBC) The 70-year-old spent much of her time between 1989 and 2010 in some form of detention because of her efforts to bring democracy to then military-ruled Myanmar (also known as Burma) – a fact that made her an international symbol of peaceful resistance in the face of oppression. In 1991, "The Lady" as she's known, was awarded the Nobel Peace Prize and the committee chairman called her "an outstanding example of the power of the powerless".
That reputation is battered, shredded, adulterated and lies in ruins today; thanks to the systematic persecution of the Rohingya Muslim minority in Myanmar.  The violence against this minority has continued, and has seen thousands flee to neighbouring Bangladesh for refuge. Many have gone as far as tagging this brutish act as "ethnic cleansing"; a term that was reserved for what happened in the 90s in Kosovo and Burundi. But what has stood out in all this, is the fact that Aung San Suu Kyi, has uncharacteristically become the apologist in chief, for the brutal regime and persecution of these people.
With the mounting pressure from the world community, and especially during the United Nations General Assembly, Aung San Suu Kyi (ASS) was spectacularly conspicuous by her absence in the meeting. She blatantly refused to give any meaningful audience to the press, when pressed about the goings on in Myanmar. Her silence on the issue has been deafening, especially to all those who in various ways, protested and contributed immensely for her release from captivity. It can be recalled that her captivity brought her on par with the likes of Nelson Mandela, Indira Gandhi, Martin Luther King, etc.; all with the common denominator as symbols of peaceful resistance in the face of oppression.  Another Nobel Peace Prize winner, Archbishop Desmond Tutu, wrote a pained letter to his friend: "My dear sister: if the political price of your ascension to the highest office in Myanmar is your silence, the price is surely too steep." Need say more? I wonder what Mandela would say to her when they meet.
Because of her cataclysmic failure to stop or even condemn the atrocities, online petitions of about 400,000 are now calling for Daw Suu to be stripped of her Nobel Peace Prize. Although there is no mechanism to take away the prize, many are suggesting that the prize money could be recovered and go to feed the widows and orphans being created on her watch. One blogger even summed up the feeling of all that ". We honoured you and fought for your freedom – and now you use that freedom to condone the butchery of your own people?  Sounds like the epitaph that would decorate her tombstone, when that time comes. In spite of previous warnings from reputable institutions like Yale and the US Holocaust Museum, that  "the brutality toward the Rohingya might qualify as genocide; and that genocide against the Rohingya may be looming respectively, she conveniently put the ear plugs on. In her defence, she blamed international aid groups and complained about "a huge iceberg of misinformation" aiming to help "the terrorists" – presumably meaning the Rohingya. But again, we should not be blind to the fact that some miscreants of the Rohingya people had been engaged in terrorists' acts against the state. This is rather unfortunate, but does that require the extermination of a whole population? Talk about taking a sledge hammer to an ant. "Must a people disappear for us to know they exist?
There are a lot of people who have found it difficult to believe that a woman of such history, and supposedly such sanitised moral fibre could oversee such atrocities on her watch. In an effort to find an explanation for this, some have resorted to think that maybe, just maybe, she has been politically handcuffed by the political gymnastics of the Myanmar military dictators; which has seen her barred from becoming president because she has children who are foreign nationals. Even at that, the least that would be expected of her is an unreserved and unadulterated condemnation of the atrocities. Has she been given the goat, and the dictators holding the tether? Despite this possibility, what is nauseatingly frustrating is the fact that she goes on to insult the intelligence of the world community by not only denying that these acts are taking place, but that they are fake news. Does that remind you of someone? Any surprises that during his maiden address to the United Nations General Assembly as Leader of the free world, not a mention of the crisis was made by Donald Trump? Saudi Arabia remains habitually tight lipped about the situation also.
Until now, Aung San Suu made us believe that Freedom was an expensive gift that was always worth fighting for; even if it costs us!" Now we know that freedom is only precious to those who don't have it." ASS has betrayed the world. She had the world believe that she was a freedom fighter, but like with all betrayals, it starts with trust. She has lost the trust of all who  believed in her and that fought for her.  She has destroyed the hopes and aspirations of many; especially the likes of Malala Yūsafzay, known for human rights advocacy, and especially education of women. She became the most famous teenager and a prominent education activist in the world, after she was injured on 9 October 2012 by a Taliban gunman when he attempted to murder her. She later became the youngest-ever Nobel Prize laureate. Aung San Suu Kyi must have been an inspiration and role model for her. You can imagine her disappointment.
Aung San Suu Kyi has failed the world. Sometimes, failure simply gives us the opportunity to begin again, next time more intelligently. She can start by being honest with the world community. Denying that these atrocities are taking place is not only delusional, but may require an examination from her neck upwards. She might not be in a position to stop the atrocities instantly, but she must have some life left in her to fight for what she has always believed in; FREEDOM. A good place to start will be honesty; for honesty is the fastest way to prevent a mistake from turning into a failure. She is a leader and leadership is about solving problems. If your actions inspire others to dream more, learn more, do more and become more, you are a leader. It is time to be that leader, for which the world has come to know her. The quality of a leader is reflected in the standards they set for themselves. She set a high moral standard. If she allows this to be tarnished by this single act of denial, her legacy, her epitaph and memory will be consigned to the cesspit of history. No legacy is as rich as honesty. Aung San Suu Kyi will do well to remember that "the only thing we take with us when we're gone is what we leave behind". It is sad to see how such a person has been in the affairs and tides of time. How are the mighty fallen.
Our lives begin to end the day we become silent about the things that matter (M. L. King).