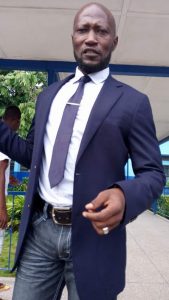 The wind of change is blowing across the country and it seems that Makeni, which is seen by many as the hub of the APC party has not gone untouched. The bug of change has touched every nook and cranny of the country. Now, the sons and daughters of the Makeni are getting in on the act. One such son of the soil is Mr Robinson Sesay. This piece is not aimed at glorifying Mr Sesay, but as a marker of how people have felt inspired by the drive to push changes into the psyche of the community. We all know that in years gone by, politics in Sierra Leone used to be the domain of the elderly. The young never participated in politics, and most of the youths saw politics as a discussion for those with grey hairs. That changed over a decade ago, and it is now a central theme for all youths. It is not surprising that most of our political parties see the need to have youth wings. Unlike previous years, the youth were relegated to grass roots level in our parties. Today, they are occupying the central berths of every political party; which is an indication of how vital the youths have become in the life blood of our political blood stream.
The newest kid that is answering to the clarion call is Mr Robinson Sesay, popularly known as "Big Brother". Mr Robinson was born and raised in "Old Cow yard", Makeni. He was born to Christian parents Mr Momoh and Mrs Yeanor Aminata Sesay. He is married to Angela Isha Sesay, fondly known as "Big sister". They have 3 children. Mr Sesay started his educational pursuit at the Sierra Leone Church primary School in Makeni, where his Christian upbringing and way of life were sown at a very early age. He attended Scarcies in Mambolo and Birch Memorial Secondary Schools, before pursuing higher education at Fourah Bay College, where he graduated with a BSC Honours Degree in Accounting in 1993.
Mr Sesay later travelled to London where he lived for four and half years before he relocated to the United States of America for 12 years. While in America, he developed a keen sense for development and innovation. He worked for corporate America and helped set up a family run business in Maryland and Washington DC. Mr Sesay gained a wealth of experience in Healthcare and Finance during his employment with Immaculate Healthcare Services and Rob & Jabs Tax Services respectively.  Having served his Sierra Leonean community for years in the US, Sesay returned to his motherland Makeni, Sierra Leone in 2007 to embark on charitable organisations.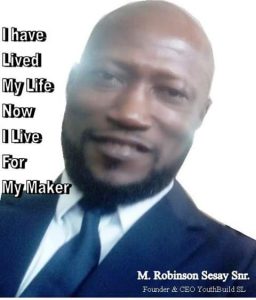 He did a stint in Freetown for a few years before returning to live in Makeni, where he has been involved in many not for profit organisations, alongside his own business. He opened up the Big Brother Productions and became the founder and National Coordinator for Big Brother Big Sisters of Sierra Leone, a charitable organisation that has made visible differences in the lives of many in the Makeni community. During his early return to Makeni, he identified a gap in the social-economic life of the city.  He envisaged that the youths of Makeni have been left behind. He noted, during our last discussion that the youths of Makeni have not been given their rightful opportunity to be active participants in the lifeblood of the city. He felt that the city as a whole had marginalised the youth.
According to him, he did not believe that the only time politicians valued the youths was during elections. Mr Sesay noted that during the years of his early return to the city, the youths were only recognised during elections; and that this was only after every 5 years of the political cycle. He was and remains determined to change that. He believes that the youth of the city should be the custodians of the future of the city, and as such be active participants in the drive to move the city forward. The youths should have a say in how the city should develop. They should be active participants. He values them as one of the main stakeholders. He believes that the youths are the drivers of change. If Makeni is to change for the better, the youths of today have a lot to say.
 It was against this backdrop and this firm belief, that saw him  engage the youths in a consultation process that gave birth to YouthBuild; a Non-Governmental Organisation (NGO).  He then went on to become the founder and Chief Executive Officer of YouthBuild. Central to the aims, objectives and aspirations of this NGO were to engage youths and to transform their lives through mass awareness and participation. In addition to this new organisation, and following a considerable period of sensitisation, consultations and capacity building among the youths and other stakeholders, Mr Sesay became one of the active partners with eWomen SL and Ewaste Management in Makeni. Like YouthBuild, the aim was to help empower women in the community. This was aimed at transforming the cultural and traditional position of women in the community.
Mr Sesay is a firm believer that the role of women in the community should not be relegated to the kitchen and bringing up children. He believes that women are central to the success of society and had been a champion of women's rights. He has in many cases championed the rights of women on issues that have traditionally been the exclusive domain of men. Issues like inheritance, land ownership rights and equal access to education for girls have been at the forefront of his campaign.
Sesay the Big Brother has recently opened a guesthouse in Makeni, where he is the owner and proprietor. This has not only added to the business side of life in the community, but also provides employment. Sesay is guided by the belief that people should put their mouth where their money is. He believes in action and that people should not only contribute to their communities when they want to run for public office. He has been actively pushing for the promotion of the Makeni even before he decided to run for office. His desire to contribute and make significant changes in the lives of inhabitants of Makeni is what drives him forward. He recently told a group of youths in Makeni that he could have easily stayed in the Western world to make money. But because he has this strong and burning desire to give back to his community, he decided to return home.
Mr Sesay believes that he has done his bit as a private citizen in the community. He has declared for the position of Mayor for the coming elections. With all what he has achieved as a private citizen and son of the soil, he believes that he can do more; given the opportunity. He also believes that he can do better. He also believes that there can be no better position to give him the opportunity to serve his community than as Mayor of the city. He believes that Makeni deserves more, and he wants to do more for his beloved city.
He has declared to run under the NGC flag. He is the National Grand Coalition candidate.  NGC is a party of change, and Sesay wants to continue his dreams for change. He believes that the whole of Makeni should come together and that such a coalition is bound to bring changes for the better.  That is why he is asking the people of Makeni to trust him and give him that opportunity to be the change Makeni deserves. Sesay believes that it is time for change and he considers the whole community, and especially the youths and women as central to his plans. He believes that no one should be left behind.
SUPPORT BIG BROTHER SESAY. SUPPORT NGC FOR A BETTER MAKENI. SUPPORT THE YOUTHS. SUPPORT THE WOMEN AND SUPPORT MAKENI. BIG BROTHER FOR MAKENI. NGC FOR MAKENI AND MAKENI FOR NGC. SUPPORT FOR BIG BROTHER SESAY, IS SUPPORT FOR MAKENI.