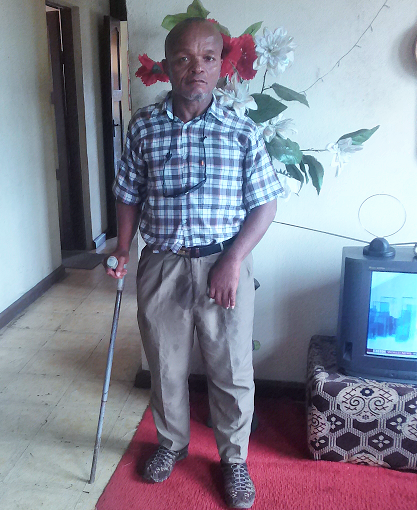 A hardworking and proud former student of Bo School; Mr. Alex Jonjo Allie also known as 'Alexandra The Great' who was an eye of admiration for many Sierra Leoneans is currently suffering from partial stroke.
He needs medical and financial assistance to maintain himself and his family as well as be able to live in this world.
Mr. Allie experience stroke on the 15th June 2009 while he was a teacher in the Gambia. He was hospitalized for six weeks before he was discharged from hospital.
"Before my discharged from hospital, the professional Cuban doctor who diagnosed me advised that I would recover gradually without relapse if I maintain a regular medication, regular physiotherapy exercise, specific diet and continuous rest in a peace of mind," he told this press.
He went on to say that: "the school I was teaching then however declared me unfit to teach because of my disability. I humbly requested for their social, medical, technical and financial assistance. I was eventually provided the technical assistance and referred to my Embassy in the Gambia for a medical and financial assistance because theirs was only meant for the Gambians. The Sierra Leone embassy did not or could no offer me any help whatsoever and I had no option but pleaded for humanitarian assistance because of lack of Standard Avenue of income," he told this press in a sad mood.
This young man has experience series of discrimination while in the Gambia because of his disability. But with the help of God, a Good Samaritan bought a flight ticket for him to return to his country, Sierra Leone.
We are calling on humanitarian organisations, foreign embassies, local and international nongovernmental organisations to assist this gentleman from his present predicament. We also appealed to all Sierra Leoneans with conscious especially Bo School Boys (OBBA) to come to the aid of their alma-mater. You can contact him directly on mobile numbers +232 (0) 78 136 442/+232 (0) 88706 848