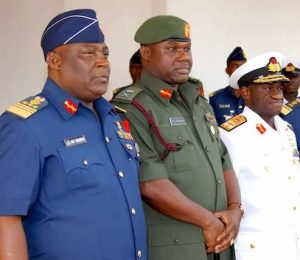 Nigerian President Muhammadu Buhari has shaken up the country's military chiefs amid a spike in attacks by the terrorist group Boko Haram.
All service chiefs from Buhari's predecessor, Goodluck Jonathan, have been replaced — from the defense, army, navy, air and defense intelligence departments, along with the national security adviser.
It is a move that is not unexpected after Buhari was sworn in as President six weeks ago, after winning an election with major campaign promises to improve security across Nigeria.
"All of you, including the national security adviser, were chosen on merit. Your records gave you the job," Buhari told the new service chiefs shortly after their appointments Monday.
In recent years, Nigeria's military has come under heavy criticism by human rights groups. Amnesty International accuses the military of "war crimes," alleging that over 7,000 people have died under military detention. President Buhari has said he will investigate the allegations.
Perhaps most closely watched will be the new Chief of Army Staff, Maj. Gen. Tukur Yusuf Buratai, who hails from Borno state in northeast Nigeria — the center of the conflict with Boko Haram. He was previously commander of the Multinational Joint Task Force, which has its headquarters in neighboring Chad to fight Boko Haram.
Earlier this year, the Nigerian military launched a major offensive and recaptured much of the territory it had lost to Boko Haram. But in the last six weeks, over 500 people have been killed in attacks across the northeast of the country.
It's still unsure what new strategy Buhari will bring to bear against Boko Haram, but he has promised to move the military command center to Maiduguri, the capital of Borno state.
President Buhari will be visiting U.S. President Barack Obama on July 20 and it's expected security in the West African region will be high on the agenda.
"Nigeria also looks forward to greater support from the United States for the multinational Joint Task Force being mobilized against Boko Haram," Buhari said in a recent statement on his upcoming trip to Washington.