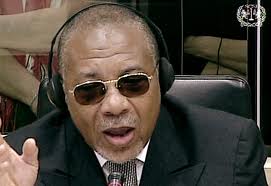 Judges at an international war-crimes court have handed a 50-year prison sentence to Charles Taylor, the former Liberian president, following his conviction for supporting rebels in Sierra Leone who murdered and mutilated thousands during their country's civil war.
"The trial chamber unanimously sentences you to a single term of imprisonment for 50 years on all counts," Special Court for Sierra Leone Judge Richard Lussick told Taylor at the court based just outside The Hague on Wednesday.
Last month, the tribunal found Taylor guilty on 11 charges of aiding and abetting the rebels who went on a bloody rampage during the decade-long war that ended in 2002 with more than 50,000 dead.
The 64-year-old American-educated warlord-turned-president became the first former head of state convicted by an international war crimes court since World War II.
Prosecutors had asked judges at the Special Court to impose an 80-year sentence; Taylor's lawyers however urged judges to hand down a sentence that offered him some hope of release before he dies.
Taylor will serve his sentence in a prison in the UK. He is expected to appeal his convictions and will likely remain in jail in the Hague while the appeals process plays out.
Paul Brennan, reporting for Al Jazeera from The Hague on Wednesday, said the length of Taylor's sentence was crucial to public's perceived the sense of justice.
The prosecution is demanding that Taylor receive an 80-year term, but the defence argues that would amount to a de-facto life sentence on the 64 year old defendant.
The Al-Jazeera reporter said it was highly likely that over the next 14 days, one or other of the legal teams would appeal the sentence, thus postponing closure of a case which has already run for 6 years.