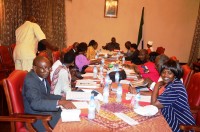 The Chief of Staff in the Office of the President Mr. Saidu Conton Sesay on Thursday 16th October chaired the second national inter-agency social protection forum held at State House, Freetown. The national social protection forum is a multi-sectoral platform that looks at addressing social protection issues across the country.
Addressing the meeting, the Chief of Staff said that such forum was a way of closely looking and bringing all social protection issues under one roof and move ahead, particularly looking at a common registry, whilst identifying the needs of the most vulnerable across the country. Mr. Sesay also stated that the National Social Protection Policy which is yet to be launched is a process and systems identification tool, and that it would not be viable to launch the strategy because of the Ebola outbreak. He emphasized that because of the importance of the project, there is every need to make it a flagship project.
He also stated that the strategy would look at Ebola survivors and the vulnerable and further support households that have been affected by the outbreak. He advised that both the policy and the strategy must be in sync to enhance the needed synergy.
During a power point presentation of the National Strategy for Social Protection, the Director of Social Protection at the National Commission for Social Action (NACSA) Dr. Abu Kargbo pointed out that the strategy was about ensuring inclusive growth by enhancing the potential of the most vulnerable people and build an integrated social protection system to strengthen policy formulation and increase capacity for social protection across governance. He added that it would also strengthen the social protection delivery system and provide equal access and opportunity to all, whilst stating that the project will target 13,000 extremely poor households. "They would be able to send their children to school and provide better living conditions," he said.
The Minister of Social Welfare, Gender and Children's Affairs Alhaji Moijueh Kaikai encouraged all to come together to effectively coordinate and implement the strategy.