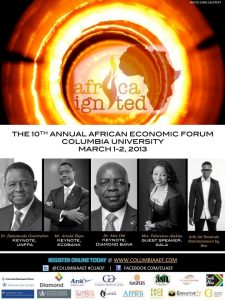 In less than a week, Columbia University's African student associations comprising of Columbia's prestigious Law School, Graduate School of International and Public Affairs, Mailman School of Public Health and Columbia's Business School will formally assemble for a joint presentation of the 10th Annual African Economic Forum (AEF) on March 2 – 3rd, 2013 at Columbia's Morningside Campus in Harlem, New York.
This year's line-up of keynote speakers is dominated by Nigerians mostly from the financial sector including Gala Guest Speaker Mrs. Folorunso Alakija – Executive Vice Chair, FAMFA Oil and a former banker and entrepreneur who recently surpassed Oprah Winfrey as the richest black woman in the world; Arnold Ekpe – Former Chief Executive Officer, Ecobank Group a leading pan- African bank with branches in 32 African countries and Alex Otti – Diamond Bank CEO and Group Managing Director of one of the leading banks in Nigeria.
Since its inception in 2003, AEF has evolved from a small student affair to the largest event that focused on Africa at Columbia University. Over 400 people attended last year when the Forum hosted Central Bank of Nigeria Governor Mallam Lamido Sanusi, H.E. Ambassador Amina Ali, Permanent Representative of the African Union Mission to the USA, Dr. Ngozi Okonjo-Iweala, Nigeria's Minister of Finance and other distinguished panelists.
In an interview with Liberian born Co-Chair Eda Henries Toussaint to get a better understanding of AEF's 2013 agenda and the message it will be putting out during this year's two day events, she spoke about Africa's economic growth, the importance of bringing African leaders to the US audience and the results of ten years of conferences and networking among other significant issues.
Congratulations on AEF's 10th anniversary. For the past decade AEF has brought together some of the brightest African leaders, entrepreneurs, scholars, students and brilliant minds from many areas of expertise from both the continent and the Diaspora to create projects and share ideas on the development of Africa. How do you measure the results of these projects and overall efforts since AEF's inception?
Thank you. Dennis. The mission of AEF has always been to bring together key minds and actors to discuss topics current and relevant to the continent. The conference aims to not only connect people but also has in its mission an objective to educate and bring awareness to what is going on in Africa.
As far as measuring results, we constantly look for ways to ensure that we are living up to this mission. We measure our success in not just the number of people who attend but the results thereafter. We have seen people inspired to move home or contribute more to Africa's development in a tangible way. We have seen panelists' profiles and access rise after participating in AEF given the fact that we have a platform with tremendous reach.
We see people walk away from the conference with an even greater desire to delve into issues, roll up their sleeves and contribute to Africa's development. We've seen the conference grow in number over the years, demonstrating a clear demand amongst professionals, students and thought leaders to have these discussions. So, you see, we measure our effectiveness of each year's conference in a number of different ways.
And, how have these conferences, projects and related events trickled down to or benefit the average African in a rural town in Djibouti or in Botswana?
On one level, we see now the impact being made by young Africans in the Diaspora who have left the comforts of the developed world to return to or in some cases, set foot on the continent for the very first time to make a difference. Some have launched businesses on the continent that are helping to boost economic development, others have taken positions with organizations that work to improve the basic living standards of everyday Africans and others are working on legislation to ensure that our resources are used for the greater good of our people.
Many of these very young people are AEF alums. On another level, we see AEF not only as a platform for Africans in the Diaspora but also for actors, leaders and practitioners on the conference to showcase what they are doing back home on the global platform that Columbia University provides. This allows us to leverage the resources of an institution like Columbia to the benefit of our people.
Take one of our panelists, Bright Simons who is the founder of mPedigree, a mobile health application that allows anyone with a mobile phone to verify the authenticity of the medication that they buy via SMS. A technology like this has huge ramifications for dealing with a real problem that Africans face today- the proliferation of counterfeit medicines.
His coming to discuss this with other leaders in the public health space will increase awareness of the issue and allow him to connect and partner with people who can further the work that he is doing. Underneath it all, AEF gets people talking and thinking about Africa from a number of different perspective and through various lenses.
Making the continent topical is incredibly important in attracting the right kind of attention that Africa needs to forge ahead. These are just some of the ways that AEF can have real benefit to an average African in even a rural setting.
As co-Chair of AEF 2013, what is your role and some of your responsibilities?
A co-Chair of AEF is essentially the conference's Chief Executive Officer. Putting together a first-rate conference that features a wide array of speakers and panelists from both the Diaspora and the continent requires one to wear many hats. Luckily, we are two- so I share these responsibilities with my wonderful co-Chair Freda Yawson, who is completing her Master's at Columbia's School of International and Public Affairs.
As co-chair, we recruit panelists and speakers (particularly the very prominent keynotes), spearhead fundraising and corporate sponsorships, create and guide the work plans for the various committees, oversee communications and advertising and recruit, train and encourage the best and brightest students for our team.
Every year, AEF selects its executive from the organization's membership comprising of students of Columbia University's four top graduate programs: Columbia Graduate School of Business, Columbia Law School, and Columbia School of International and Public Affairs, the Mailman School of Public Health, what is the selection process like?
We are very lucky to have the four schools involved in such an important event for the university. Joining the AEF team is done on a purely volunteer basis, so we aim to recruit people who are highly motivated, detail-oriented and have a passion for Africa. We look for people who are creative and resourceful and committed to delivering the high-quality event for which we have become known.
While Africa is experiencing enormous growth with the discovery of oil in some states and other economic indicators in others, at the same time the continent is also being subjected to massive foreign aid. How is your organization addressing this troubling issue? Does AEF have a blueprint to help steer the economies of Africa into sustainable development and prosperity?
I am very glad you brought this up because this is the very point of this conference. Africa is seen as the economic underdog and we recognize that. This is why it is so important to bring together people who are working to change entrenched reliance and raise the economic prospects of our people.
One of our panelists and a good friend, Chid Liberty of Liberty and Justice, returned home to Liberia to start a sewing company that employs dozens women (paying them equitably I may add) and exports textiles through the Africa Growth and Opportunity Act. He is a young man and the first to have ever done so from Liberia. It is stories like these that we need to not only tell but proliferate.
Based on AEF 2013 agenda and panel discussions for this year, you will be focusing in nine major areas including healthcare, mining, Urbanizing Africa, banking, entrepreneur and innovation, manufacturing, real estate, social media and Agriculture. Reports of food shortages and hunger in many parts of Africa seems to be in the news almost daily, are issues such as food shortages and food sufficiency in Africa scheduled for discussion in this year's agriculture panel?
Absolutely, when it comes to Africa and our discussion on agriculture this year there is the question of how can Africa better feed her people? How can we utilize our clear environmental and labor advantages to meeting one of the most basic needs of our people? This year we're looking at the issue from the perspectives of both the public and private sectors.
Noticeably, AEF is not convening any legal or law panel this year. At a time when former Ivorian leader Laurent Gbagbo – is the first Head of state ever to be on trial before the International Criminal Court. As well as, at a time when many African countries have emerged out of conflicts which have created a lack of human resources and institutional capacity to maintain the administration of justice, human rights and the rule of law, isn't it timely for AEF to be addressing and providing solutions to these issues?
While there isn't a panel solely dedicated to law, many of our panels will include an examination of the legal perspective. For example, the panel on mining will examine the role that legislation and addressing how labor issues affect the trajectory of the sector.
One of our keynotes, Dr. Babatunde Osotimehin who is the Executive Director of the United nations Population Fund (UNFPA) has been a vocal activist against Female Genital Mutilation in favor of increased involvement on the part of government in eradicating this violation of a basic human right.
The second part to the question is China's direct investment in Africa which news reports say reached $14.7 billion in 2011 and launched over 800 non-financial investment projects in 49 African countries. Some observers have said most of these measures and efforts are political and economic in nature and they don't address the legal problems arising out of these bilateral business transactions. Wouldn't you agree that this is an opportunity for AEF to actually shape outcomes by providing legal insights and strategies as highlighted in your 2013 theme?
Indeed it is, Dennis. Again, several of our panels cover areas in which we find a concentration of Chinese investment so it is inevitable that a conversation around mining, infrastructure or even agriculture will examine the challenges posed by what some may see as inequitable arrangements. These panels aim to examine the issues from a myriad of perspectives and foreign investment is always a key component of the discussion.
What do you think AEF hope to achieve during and after this year's Forum which runs from Friday, March 1, 2013 – Saturday, March 2, 2013?
During the conference we hope to get people talking and connecting. Our keynotes are not just speech sessions, but rather an opportunity to hear firsthand and ask questions of some of Africa's leading figures. Last year, Governor Lamido Sanusi's talk was mostly driven by the questions coming from a room of 250+ persons and he did not leave until he had sufficiently answered them.
In the panels you get a chance to get up-close and personal with the movers and shakers across a myriad of sectors. People exchange cards and begin to forge relationships right there. This year's gala will feature a moderated talk by Mrs. Folorunso Alakija one of the world's leading female entrepreneurs. The talk will cover both her professional and personal endeavors and allow our guests to get to know her on a very different level.
Many people come to AEF to make connections and we create the environment that allows that to happen. We set aside time for networking both amongst conference attendees as well as interaction with potential employers through our career fair. This year's career fair will also include admissions officers from the four schools who wil be on hand to answer the questions of those looking to attend Columbia University's graduate programs.
We will have designers, artists, journalists, bankers, real estate developers, musicians, investors, manufacturers, health professionals and the list goes on. Our goal is to get people talking about the issues and connecting around meaningful strategies for increasing development and engagement on the continent. If we can achieve that then our work has been done.
Anything of significance left out in this brief conversation on the celebration of AEF's 10th anniversary celebration that is noteworthy?
We'd like to say thank you! Over the last years many hands have worked to bring the conference to the level that it is today and for that we are eternally grateful as it demonstrates that there is a clear commitment from many sides to see Africa prosper and the future of our children's children brighter. We are thankful to our corporate partners who run the gamut from the media houses to some of the biggest banks on the continent.
This year our Diamond sponsor is a first-time sponsor so we look forward to growing that relationship. We're thankful to our alumni who continue to reach back to drive the success of the continent whether it's through fundraising or recruiting speakers. Last but certainly not least, Freda and I are thankful to our awesome team that continues to work harder and harder to nurture our relationships and make the event a success.
Thank you for having me and we look forward to seeing you on Friday and Saturday!