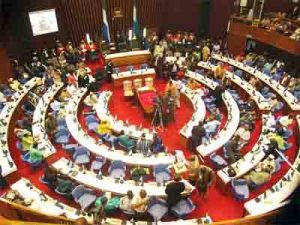 The Clerk of Parliament, Alhaji Ibrhaim Sesay on Tuesday 21st August ordered security personnel attached to Parliament to barricade all the doors leading to the parliamentary chambers and stop all Members of Parliament from moving in and out of the Chamber.
The Clerk of Parliament gave this order after MPs went on the rampage in Parliament over the decision to elect a temporarily Day Speaker or a permanent Deputy Speaker of the House.
Alhaji Ibrahim Sesay made this security decision after also allowing the voting process to be conducted through a secret ballot system, which also previously plugged the House into a tense debate.
Hon. Ajibola Manley Spain of the ruling All People's Congress (APC) was elected as Deputy Speaker with an overwhelming vote of 63 against Dr. Kamanda from the opposition Sierra Leone People's Party (SLPP).
According to one Saffa Koroma who was watching from the Parliamentary gallery, the decision by the Clerk made way for a peaceful voting process by MPs after a very tense atmosphere in parliament for the past two sittings.
Member of parliament, Hon. Paramount Chief Bai Kurr called on the MPs to show honour and conform to what is prescribed in the 1991 Constitution of Sierra Leone. The MP made this call after holding consultations with colleagues to settle the parliamentary debate between the