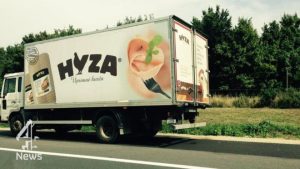 The Austrian authorities say at least 20 migrants have been found dead in a lorry near the eastern border with Hungary.
The number of dead could be as high as 50, they say. The grim find comes as a
summit focussing on migration
takes place in the Austrian capital, Vienna. Tens of thousands of migrants from conflict-hit states in the Middle East and Africa have been trying to make their way to Europe.
Austrian police said there appeared to be 20 to 50 bodies in the lorry, judging by its size. They described the deaths as a horrible crime. The lorry was parked in a lay-by on the A4, the main road to Vienna, near the town of Pansdorf. The vehicle had been there since Wednesday but was not found until early Thursday.
The victims had been dead for some time and the bodies had begun to decompose. Austria's Interior Minister Johanna Mikl-Leitner told a news conference it was a "dark day" and that their thoughts were with the victims and their families.
The tragedy again underlined the urgent need for common EU policies to protect migrants and to combat people traffickers, she said.
In Vienna, Serbia and Macedonia have told the summit that EU must come up with an action plan to respond to the influx of migrants into Europe. A record number of
107,500 migrants
crossed the EU's borders last month and on Wednesday police counted more than 3,000 crossing into Serbia.
Germany has called on all European states to share the burden. Thursday's summit was expected to discuss ways to strengthen support for Western Balkan states as well as ways of tackling human trafficking gangs and providing better protection for the EU's external borders.