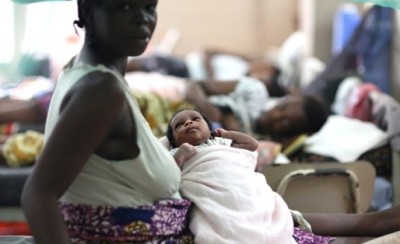 FREETOWN-MAKENI: State hospitals and health clinics across Sierra Leone are facing severe shortages of drugs that should be supplied under the free healthcare programme LINK because practitioners are diverting them for private sale, investigations by the Sierra Leone Anti-Corruption Commission (ACC) show.
User fees for children under five and pregnant women were scrapped in 2010, allowing them to consult health practitioners and receive medication free of charge. One in 21 women in Sierra Leone dies from pregnancy or other causes, while over 17 percent of children die before their fifth birthday, according to the UN Children's Fund (UNICEF).
Despite the complex problems that plague Sierra Leone's fragile health system, UNICEF says the scheme is already having a positive impact – the number of malaria consultations for under-fives has doubled since it started.
But investigators worry that the drug diversions could undermine the scheme's positive impact. A series of sting operations set up by the ACC since June 2011 revealed that drugs intended for the programme were being sold to patients, retail pharmacies or private sellers at public facilities across the country.
The practice occurs at state hospitals and clinics in the Bombali, Bo, Kenema and Kono districts, in several clinics, and the Princess Christian Maternity Hospital and Satellite hospitals in the capital, Freetown.
The drugs being sold range from standard antibiotics such as Amoxycillin and Metronidaz, to vaccinations and pain relievers, said Felix Kabba, chief investigator at the ACC. The full findings will soon be officially published, he said.
At the Goderich health centre, just outside of Freetown, Famata Conteh, 28, told IRIN her child had been diagnosed with malaria. "The nurse… gave me a prescription to buy Artesonate [a malaria drug]. I asked her why I have to buy the medicine… She said the drugs are in short supply."
The diversion of key drugs is affecting the quality of healthcare provided to women and children, said Dr Jalloh, medical superintendent of the government hospital in Kambia district, northern Sierra Leone. Better monitoring systems and tightly guarded storage facilities must urgently be set up in clinics and hospitals to make theft more difficult, he suggested.
Pepper doctors
Many of the stolen drugs are sold to pharmacies, or street drug peddlers known as "pepper doctors". Brima Kamara, a pepper doctor in the Lumley district of Freetown, said he has contacts at several state hospitals where he buys drugs at knock-down prices. Pills, such as paracetamol, panadol and antibiotics, are easiest to get.
Kamara buys popular drugs like a packet of Azithromycin, Cefixime or Doxycycline for 100,000 leones (US$22) and sells them at a 50 percent profit for 150,000 leones ($34). "These drugs sell fast and are cheap to get," he told IRIN, noting that antibiotic tablets for treating sexually transmitted infections (STIs) were popular among sex workers. "Most of these I can't afford to buy from retail pharmacies," he said.
Dozens of the 160 retail pharmacies in Makeni, in north-central Sierra Leone, the country's fourth-largest city, are involved in illicit trade between government hospitals, drug importers, and retailers – much of it run by cartels, say ACC investigators.
Bumping up salaries
Under the 2010 initiative it is a crime for health workers to charge women or the families of children a consultation fee at any state hospital or clinic. But many doctors say they cannot survive on their salary without bumping it up through alternate means.
When user fees were initially scrapped, doctors told IRIN their biggest concerns were insufficient compensation, poor working conditions and few opportunities for career development.
A state-registered nurse is paid $55 a month, while a doctor can earn between $500 and $800, depending on qualifications and experience. Private hospitals and clinics pay more, and many doctors flee the country once they complete their training.
Sierra Leone has about three doctors per 100,000 people, but the World Health Organization recommends at least 228 doctors for that many people.
Not the only reason
Drug diversions are not the only reason for the shortages. Poor procurement practices also lead to gaps in much-needed medicines, while others are over-stocked. Individual hospitals, and even the Ministry of Health, have no procurement strategy in place.
UNICEF uses its purchasing ability to procure medicines for Sierra Leone, but Mahimbo Mdoe, head of the organization in Sierra Leone, says government hospitals, clinics, and district facilities are not filling out drug request forms properly, and his office is often unaware of the overall amounts needed, creating gaps. UNICEF dispatches drugs from its Copenhagen warehouse to the central medical stores of the Ministry of Health and Sanitation.
Others funding the programme are the Global Fund to Fight AIDS, Tuberculosis and Malaria, the UN Population Fund (UNFPA), with help from the UK Department for International Development (DfID), the European Union humanitarian aid body (ECHO) and Irish Aid.
UNICEF and the Health Ministry are establishing a National Pharmaceutical Procurement Unit (NPPU), which will take over all purchasing and distribution when UNICEF withdraws in 2013.
Private consultants will manage the handover and train government staff, and an autonomous, self-financing body will be set up under the Ministry of Health to sustain free healthcare provision without donor support. This should improve drug supply at least to some degree, Hawa Zainab Bangura, the Minister of Health and Sanitation, told reporters at a press conference. She emphasized that the government is ready to take on the responsibility of running the free healthcare scheme.
At a meeting in December 2011, organized by the Global Fund to discuss ways to prevent drug theft, Bangura told fellow African Health Ministers her government was committed to a crackdown. "One medicine stolen means that one mother goes without it. It means that one life might be lost. I'm not going to let that happen."