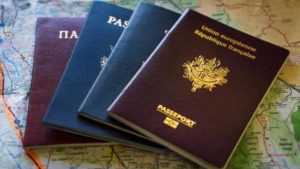 This Dual Citizenship issue is not a constitutional tutorial, but a very dangerous political ploy being sponsored and machinated by the APC government, that will backfire big time if daftness is to overcome rationality.
The campaigns carried out by some blind and power hungry compatriots against Diasporans, will not only replace national cohesion with evil and hatred, it will also usher in a devastating emotional and psychological chapter that will surpass even the ten year old bloody civil war in Sierra Leone. No sane Sierra Leonean would wish for another war in the country as bitter lessons have already been learnt to desist from this evil thought.
That is why the causes of any regrettable conflicts – especially emotionally charged ones, must not be entertained.
Of course, physical wars such as the one experienced from 1991 to 2002 in Sierra Leone can be resolved easily.
But when you compare that to the emotional and psychological warfare that innocent families will go through because of this obnoxious DUAL CITIZENSHIP madness, it's incredible to even think about it. Such traumas are unsolvable.
Those who are breeding poisonous substances amongst Sierra Leoneans by consciously discriminating against their compatriots in the name of dual citizenship, are letting themselves and the country down. As selfishness rather than patriotism has sadly blackened their mental faculty.
It is even more dubious at this time just few weeks to the general elections, for the ruling APC government of President Ernest Koroma to unleash such controversial and divisive laws on Citizens' Rights in the 1991 Constitution.
National and international observers believe, the cocky and jittery APC party is playing this dangerous game of divide and rule for fear of losing the March 7, 2018 polls especially to the newly formed NGC party led by the former United Nations Director Dr. Kandeh Yumkella – a patriot from the Diaspora – who is contesting for the highest office in Sierra Leone.
There is no logical reason why the APC is taking this chaotic and unprecedented stance to bar Sierra Leone citizens just because of having DUAL CITIZENSHIP. Blind campaigners must stop using the 1991 constitution as scapegoat to fool themselves. No amount of divisive strategy will fool the electorates come March 7. Very pathetic that the APC has not only shot itself in the foot as many of their cabinet ministers also hold DUAL citizenship, but this daft action is playing well in the hands of the opposition parties who are adding to their votes on a daily basis.
It's very obvious that God has destined 2018 for the demise of the ruling party especially considering the catalogue of national blunders and the rife corruption that continue to characterize the APC.
Instead of fighting sincerely to have any hope for re-election, president Koroma is leading an endemically corrupt government where only corrupt ministers and crooked heads of government institutions are protected in their jobs.
Now, with no more tangible ideas in place to convince voters to elect the APC presidential candidate Dr. Samura Kamara, the APC is using the constitution to punish innocent Sierra Leoneans who are now being considered second class citizens in their own country
This is very deceptive, disrespectful, divisive and is a recipe for disaster. When a government disenfranchises a section of its citizenry for selfish political peanuts, nothing is candidly more painful than that.
Imagine, if they succeed in banning dual citizens from holding political office, where will such an evil scenario end? That is the question the blind campaigners must answer.
They will not hesitate to even bar dual citizens from establishing private businesses upon their return to their motherland. This is the question all well-meaning Sierra Leoneans must take note of. We are talking about peoples' lives here. About our children and grandchildren. What country do we want for them in the future?
This is the emotional and psychological trauma reasonable and unreasonable compatriots must always analyze.
As for our daft brothers and sisters who have been brainwashed for political pittance, they must think wisely as posterity will judge them as enemies of Sierra Leone.
A united country is far better than a divided one. Let's remember the difficulty in curing traumatic experiences caused by psychological emotions.
The best the APC could do now is to respect Diasporans and must imprint in their minds that Sierra Leone families abroad also equally love their country.
Sierra Leone is for all Sierra Leoneans. Believe it or leave it. Dump discrimination NOW in the dustbin of history