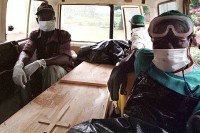 Health ministers and administrators are now assembled in the Ghanaian capital Accra to find ways of tackling the region's first outbreak of the deadly Ebola disease which has so far claimed at least four hundred lives in Guinea, Liberia and Sierra Leone.
The first reported outbreak of the disease in the sub-region was in Guinea where it took a number of deaths before it was actually confirmed that it was as a result of the Ebola virus. The Guinean health authorities were so baffled by the outbreak that among the first set of victims were medical personnel who had gone to the areas affected with a view to helping victims. These medical personnel died after being infected by the highly contagious disease that was making its first appearance in this part of Africa.
The BBC Global Health correspondent now in Accra Tulip Mazumdar states – "So far, 763 people have been infected with the virus – and 468 of these have died. Most of the cases have been in Guinea where the outbreak started.
But it has since spread to Liberia and Sierra Leone and is now the biggest and most deadly Ebola outbreak the world has seen, say officials. Health officials from those countries, as well as Ivory Coast, Democratic Republic of Congo, Gambia, Ghana, Guinea Bissau, Mali, Senegal, and Uganda will attend the meeting."
The BBC's report has quoted this from Dr Edward Newman of Public Health England who's working with the World Health Organisation who has seen the situation – "When patients come into the MSF isolation facility, some walk in if they are in the early stage of the disease; others are more seriously ill and need an ambulance. I also went out into the remote villages to help trace people who might be ill and help inform communities about the virus.
It is very challenging work. There is a lot of misunderstanding and mistrust of foreign nationals coming in and trying to help. The biggest problem we had was people were not forthcoming about sick members of the community and getting them to the isolation centre. Some families were even hiding sick relatives and bodies."
Ebola spreads so much fear and trepidation that two countries – Sierra Leone and Liberia had to dust their law books to warn residents that it would be a criminal offence for anyone to hide suspected Ebola infections as well as the secret burial of those who had succumbed to the disease.
Liberia's President Ellen Johnson-Sirleaf told the BBC that her government was committed to providing for the healthcare needs of every Liberian and that the practice of taking the sick to prayer meetings in churches and other areas must stop.
She urged everyone in Liberia to report such cases to the authorities so that health officials can make the necessary intervention to not only help the victims and relations, but the community. She said that Liberia now has a massive education campaign in place that should ease the fear and worries of many who do not know about the disease and the risks involved.
Earlier on Saturday June 28, President Sirleaf addressed the Liberian nation in which she stated among others that – "In awake of a renewed outbreak of the Ebola Virus Disease in Liberia, this has KILLED so many people in Liberia, Guinea and Sierra Leone and still poses a threat including health workers. To date in Liberia 70 people have contracted this deadly disease while 46 of our compatriots have died. These numbers will rise if we do not listen to the advice from the Ministry of Health and Social Welfare and Partners.
I call on all Liberians to now see the Ebola Epidemic as a national public health emergency. For those who do not believe that Ebola exists in Liberia, I want to inform all Liberians in this public manner that the disease is REAL and is in our country killing people.
It is as I speak, taking the lives of our citizens in Lofa, Montserrado, and now Margibi County. These deaths are mostly due to denial, touching dead bodies or participating in Burial Ceremonies.
Avoid touching dead bodies or body fluids or materials of infected Ebola persons. Avoid direct physical contact, such as handshakes, kissing and direct contact with body fluids of infected or dead persons or animals.
Symptoms of Ebola typically include: weakness, fever, headaches, diarrhoea, vomiting and stomach pain. Additional signs include rash, red eyes, internal and external bleeding, chest pain, and sore throat.
I call on all our Nationals and County leaders, traditional and religious leaders, civil society, international partners, and all citizens to join hands in fighting this disease. With God on our side, Liberia will win the fight against Ebola!
That is a caring President in neighbouring Liberia. In Sierra Leone, not a word from the rat at State House, not a whimper of concern as he and his looters of state resources go about as if nothing of the sort is happening in Sierra Leone with people dying from Ebola.
On the meeting in Accra, one news outlet has noted –
"The meeting will not only discuss the current threat, but will also hear testimonies from Ebola virus survivors and learn lessons from countries like Uganda, which successfully fought the virus a decade ago. The next two days will be crucial for health officials to develop a regional response to the outbreak, which has already killed more than four hundred and fifty people.
Ghana's health Service intensified surveillance across her borders when the first case of the virus was reported a few months ago. The death of an 11-year-old girl from what appeared to be haemorrhagic fever at the Komfo Anokye Teaching Hospital in the Ashanti regional capital, Kumasi, just weeks after the first case was reported, caused fear and panic in the country.
The Health ministry and the Ghana health service later confirmed that the girl did not die from Ebola. The virus is spread through direct contact with an infected person or from the consumption of infected carcasses of bats, which are a delicacy in some African countries, including Ghana.
One very brave team from the UK – the Sky TV news outlet has been in Guinea and in Liberia to bring to viewers the hard reality picture of what obtains in a sub-region where health delivery and administration systems leave much to be desired.
Sky's presenter Alex Crawford, a lady with the heart and soul of a true African, never mind the skin appearance/colour.
She has seen action in Libya, Mali and other dangerous spots on the continent and would, we suspect, take the risk just to make sure that the story is told as vividly and as accurately as can be.
We continue to salute her and reiterate our respect for her and the team on the Ebola story must be commended. Given the manner in which Ebola spreads, we believe she and her team are really taking a huge risk.
We wish them well.
We wish the Accra meeting on Ebola well.