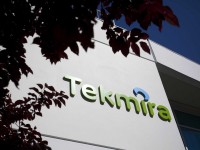 An experimental drug has completely protected monkeys from lethal doses of a virus related to Ebola, bolstering confidence that a similar medicine might be effective if deployed in the current outbreak in Africa, researchers reported on Wednesday.
The researchers said that the drug, which is being developed by Tekmira Pharmaceuticals, kept all monkeys alive in a study, even if given as late as three days after exposure to the Marburg virus, when the virus was already detectable in the animals' blood.
Both Marburg and Ebola are filoviruses that cause deadly hemorrhagic fever characterized by vomiting, diarrhea, uncontrolled bleeding and possible organ failure. Tekmira, which is based in British Columbia, has a separate drug for Ebola that is already in early testing in healthy human volunteers. Both drugs work the same way — turning off viral genes through an approach called RNA interference.
Marburg virus was first described in 1967 after outbreaks in three European cities, including Marburg, Germany, caused by the importation of monkeys from Uganda. The biggest outbreak was in Angola in 2004 and 2005, which affected more than 250 people, killing about 90 percent of them.
Some experimental drugs for Marburg and Ebola have been shown in animal studies to be effective when given shortly after infection. But in a real epidemic like the one in West Africa, most people do not know they have been infected until they get sick, which can be several days later. So there is a need for drugs that will treat a disease that is already underway.
Tekmira's Marburg drug moves in that direction. The virus was detectable in the monkey's blood three days after exposure, corresponding to the time an infection might first be diagnosed using a test.
The study demonstrates the "real-world utility of this technology," said Dr. Thomas W. Geisbert, a professor of microbiology and immunology at the University of Texas Medical Branch at Galveston and a senior author of the study, which is being published in Science Translational Medicine. He said more studies were being planned to determine whether the drug could be used even later.
Dr. Daniel G. Bausch, an associate professor of tropical medicine at Tulane University, who was not involved in the study, said effectiveness at three days postexposure was not that useful. In an outbreak, only people who are closely monitored — such as those who have had contact with an infected person — might get a diagnosis based on a blood test, before symptoms appear.
"The vast majority of people come in after they are sick for a couple of days," Dr. Bausch said. In the study, even the monkeys that did not get the drug did not show symptoms until about six days after exposure.
In the study, 21 rhesus macaques were injected with a high dose of the Angola strain of Marburg, the most lethal strain, with a human fatality rate of up to 90 percent.
The monkeys were given daily injections of the drug for seven days. For four of the monkeys, the injections did not start until 72 hours after exposure. The others began receiving the drug at earlier time points.
All 16 of the treated animals survived, with reduced viral levels and disease symptoms. The five monkeys in the control group all died or became so sick they were euthanized.
The study was paid for by the National Institutes of Health. Some authors work for Tekmira, and Dr. Geisbert has patent rights to this type of treatment.
Gene G. Olinger, an Ebola and Marburg expert at MRIGlobal, a research institute, said other experimental drugs had provided protection at three days or later, but usually not 100 percent.
Two-thirds of monkeys given Tekmira's Ebola drug three days after exposure survived. A predecessor of ZMapp, a drug that appears to have helped two American aid workers stricken with Ebola, kept alive three of seven monkeys that were given the drug four to five days after exposure to Ebola, when some of the animals had symptoms.
Tekmira executives have said the company was evaluating possible ways to use its Ebola drug in the current outbreak, but they have provided little detail. An executive said last week that it would take months to make more of the drug, which is being developed under a Defense Department contract.
The Food and Drug Administration halted testing of the Ebola drug in healthy volunteers last month after some patients suffered inflammatory reactions at high doses. This month, however, the F.D.A. said the drug could be tested on people who were actually infected.
RNA interference, the technique used by Tekmira, is a way to turn off potentially any gene. It holds promise for treating many diseases, not just viral infections.
Such drugs typically consist of short stretches of synthesized double-stranded RNA that match part of the gene to be silenced. The challenge for drug companies has been delivering the RNA through the bloodstream and into the cells where it is needed. Tekmira encapsulates the RNA in microscopic lipid particles to help in this.
"This technique of getting a lipid-encapsulated product that can actually enter the cell efficiently is something that is important," said Dr. Anthony S. Fauci, director of the National Institute of Allergy and Infectious Diseases.