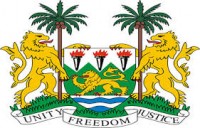 Ministry of Health and Sanitation
Emergency Operations Center (EOC)
Press Release 5/8/2014
Ebola outbreak update: As of today, 5 August 2014, we have a total of 161 patients who have survived Ebola Virus Disease and subsequently discharged. The total number of new confirmed cases is 15 and total cumulative number confirmed death is 214. The total number of cumulative confirmed cases is 591 with Kailahun 352, Kenema 201; Kono 1; Kambia 1; Bombali 5; Tonkolili 1; Port Loko 8; Pujehun 2; Bo 12; Moyamba 1; Bonthe 1; Western Area Urban 6. As of today, Koinadugu district is the only district that has not registered confirmed cases of Ebola in Sierra Leone
The cumulative number of probable cases is 52 and probable deaths 34 while the total cumulative number of suspected cases is 68 and suspected death is 5
The Emergency Operations Center (EOC) wishes to express its sincere thanks and appreciation to His Excellency the President Dr. Ernest Bai Koroma for declaring yesterday, August 4th 2014 as a National Stay At Home day, and to the people of Sierra Leone for answering the President's call to stay home, reflect, pray and educate their families on the current Ebola outbreak in the Country. Thanks to this effort, the Ministry of Health and Sanitation and its partners were able to reach many Sierra Leonean households across the country through several media engagements and community sensitization.
The EOC also wishes to inform the general public of the following activities it has instituted, which will go a long way in helping combat the spread of the disease in the country:
Food supplies have commenced in affected communities and households in the Kailahun District and will follow to other affected areas
The Red Cross has deployed one treatment center to service the Kenema District. The current Ebola treatment center at the Kenema Government Hospital Premises will be relocated to this new treatment center once construction is completed
The 117 call center has been relocated to the Emergency Operations Center at the WHO and staffing has been increased to cater for the volume of calls currently incoming.
Additional Contact tracers have been trained and are being deployed in affected communities and districts across the country. The general public is advised that these contact tracers are not in these communities to intimidate or harm them, stop the potential spread of the disease
The General Public is hereby reminded that minimizing physical contact, avoiding traditional burials of suspected Ebola dead bodies and hygiene practices such as regular hand washing with soap, cleaning and disinfecting homes regularly will reduce their chance of becoming infected. The public is hereby advised to adopt these preventive measures in addition to other preventive measures from the Ministry of Health and Sanitation and its partners.
Ebola Viral Disease Situation Report – Ministry of Health and Sanitation, Sierra Leone. For more information please contact – District. Health Management Team at District level. National level – Directorate of Disease Prevention and Control: dpcsurveillance@gmail.com, Mobile:- +23276913000